Announcement: 2022 Vegas JO Party
Published: Category: Party Estimated Reading Time: ~5 minutes 2022nd vegas
The next Real Porn Meets party will be Saturday and Sunday, April 9 and 10, 2022, 4pm-midnight (each night!)! Stop by for a quick cum or stay the whole time! The location is a hotel near the strip. First-timers encouraged!
---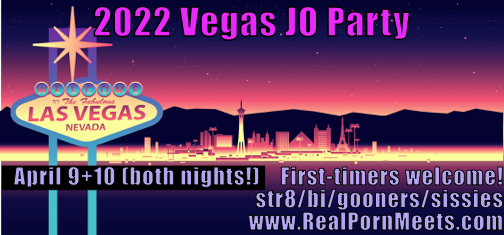 [ Update: New location! It will now be held in a suite in a mid-tier hotel on East Tropicana Ave. ]
Gooners! Pornosexuals! Beginners and experienced pornaddicts! You are invited to Real Porn Meet's 2nd Vegas JO party! Two nights of porn! Fans of straight/bi/gay/sissy porn are invited! Whether you are a Vegas local or traveling from far away, this is going to be our best party yet! Don't miss it!
I stream the best videos from pornhub, hypnotube, and other sites on multiple big screens as the attendees watch and enjoy. Attendees are mostly straight and bi guys with occasional "buddy stroking" and more depending on the vibe.
We're expecting 5-15 attendees at any time (due to different arrival times).
Women (of all kind) are welcome. I create a very safe and consensual atmosphere. Women usually watch or play. There's no pressure. Everyone wears a wristband that indicates if they want to be approached.
Party info:
Where: A hotel suite at a mid-tier (i.e. cheap) hotel on East Tropicana Ave
When:

Saturday, April 9, 2022: 4pm-midnight (maybe later!)
Sunday, April 10, 2022: 4pm-midnight
"Hypno Hour 7-8pm both nights!"
"Stop by for an hour, or the whole night!"

Who: 21+ only, guys and sissies/CDs (women may attend). First-timers encouraged!
What: 3+ video screens of porn!
Safety and consent: Privacy and safety are #1! This is a safe space for people on the DL, closeted, or generally private people. When you enter you'll receive a wristband: red (no touching), yellow (ask!), green (yes!). "No means no!"
Is this real? Heck yeah! This is our 15th party! Read our history !
RSVP here: https://forms.gle/B3N3pR1u6QrmsrnR7
Late change: (April 3)
New Location: Due to an issue with the original venue, we have to move the party. At this late date the best location we could find is a mid-tier (i.e. cheap) hotel on East Tropicana Ave. Parking is free. RSVP to receive the address and room number.
Donations Requested: The new location is more expensive. Nobody will be turned away for lack of funds, but a $20-40 donation will be requested on arrival.
Sissy Hypno Hour 7pm: All sissy hypno porn from 7pm to 8pm (both nights) (This was a big hit at the last party.)
Please bring a towel to sit on: It's just nicer that way.
Can you bring a screen? If you can bring a video monitor or TV (42" on larger) please contact the host.
FAQ:
Q: What kind of porn?
A: Straight and bi. Your host is a "Porn DJ" that takes requests! Plenty of gangbang, PMV, lesbian, big fake tits, bimbos, hypno (sissy/bi/bbc). (Legal porn, only, of course!)
Q: Buddy stroking?
A: Yes. Ask and remember that "No means no."
Q: Oral?
A: Yes (sissies encouraged to practice their skills)
Q: Weed ok?
A: 420-friendly. Poppers ok. Nothing harder.
Q: Will women be present?
A: Yes, they are welcome to attend and either watch or join in.
Q: Can I bring my cis-female girlfriend?
A: Only if she talks to a host ahead of time. We want to make sure we understand her boundaries so that she has a safe, fun, and good time! Reach out via the RSVP form.
Q: What should I bring?
A: A towel (to sit on), lube, favoriate toys, and whatever gets you hot.
Q: Why did the location change at the last minute?
A: Long story. The short version: This happens and we always have a back-up plan!
Party Rules
The #1 rule is safety. Safety means a lot of things:

confidentiality: No last names. No taking photos/videos. No discussing the parties (at least with identifying details). Most attendees are on the DL.
consent: Ask before you touch. NO means NO. Consent is sexy!
health: Safe sex only.
keep it legal: You must be 18 & older (or 21+ for some parties). No illegal porn.

The #2 rule is hygiene. Shower before you arrive.
No judgement. We all like different porn. (No under-age stuff, of course!)
Stroke your dick, don't be one! This isn't the place for hate, including racism, homophobia/transphobia, sexism/misogyny, or overall bigotry & un-brotherly behavior. People that attend may be all colors, all sexual orientations, all genders: str8+curious, pornosexual, sissy, solosexual, and things you haven't seen or heard of before.
Keep it safe and sane. You will be asked to leave if you break these rules or act in ways that make the host and others uncomfortable.
Parties are for first-timers and experienced folks too. If you are experienced, try to make the first-timers comfortable. If you are a first-timer, please let us know if there's anything we can do to help make you feel at ease!
Nudity is encouraged but optional. You be you, boo!
Have fun! Hey, that's what we're here for, right?
Questions? Ask on Discord or contact the host via the invitation form.