Party Recap: Porn Watching Party #15: Las Vegas, NV, April 9+10, 2022
Published: Category: Recaps Estimated Reading Time: ~15 minutes 2022nd vegas
Recap of the April 9 and 10, 2022 parties in Las Vegas, Nevada:
What happens in Vegas, stays in Vegas! Therefore, there will be no party report.
Just kidding! Of course there's a report!
Summary
Despite having to find a new location at the last minute, the party was a big Success. 20 attendees on the first night, 10 on the second night. The audio/video setup worked great. The room was the right size for the number of people: everyone was close but not overcrowded. The attendees were diverse, including three or more sissies. There was lots of solo fun, plenty of buddy-action, and "Sissy Hypno Hour" was enthralling. A great time was had by all!
There was tons of sexy, sexy, action. But first…
Planning
While most of the parties I host are close to home (New Jersey), the first "Real Porn Meets" party was held in Las Vegas in 2018. Four years later I was excited to return and host another party.
I was in town to help a friend and took the opportunity to host two parties: Saturday night and Sunday night. Both started at 4pm and ran until midnight.
Finding a location for a party can be difficult. It has to be inexpensive, ok with parties, the right size, two or more video screens, and an elevator that doesn't require a keycard. I thought I had the perfect place when I found an Airbnb run by a pro-domme (professional dominatrix). The space was set up as a BSDM dungeon and she was cool with me hosting a party. Sadly a week before the event something came up and… long story short… I had to scramble to find a new location.
Luckily I found a hotel just two blocks from The Las Vegas Strip that met all the qualifications. However, the reviews warned that it is pretty run down.
I checked in on Friday so that I would have plenty of time to set up for the party. I'm glad I did, there was a lot of work to do.
When I opened the door to the room I was shocked. It was crap. The shower didn't work well, the furniture was shabby, and the room smelled bad. On the bright side, crappy hotels usually don't have management that cares about parties. Oh, and the parking was free.
I sprayed Fabreze until it filled the entire volume of both rooms. That made it smell a lot better. I repeated that process a few hours later, and a few hours after that. Thank god for modern chemistry.
The next challenge was the space itself. There were two rooms. When you enter you find yourself in a room with a kitchen and living room with a big TV. It wouldn't really be good for a party because every time the door opens you'd see everyone. Also there was only seating for 4 people, everyone else would have to sit on the floor.
That connected to the bedroom which wasn't ideal either. The bedroom had a bed, and a big open area. There was seating for 3 people on the bed. If I moved the chairs from the kitchen there would be seating for 5 total; everyone else would have to sit on the floor. Again, not ideal.
I spent a lot of time moving furniture around and experimenting. Should I consolidate all the furniture into one room or the other? What would be best for the attendees? What would be the most comfortable? Which would seem less crowded, but not too much space so that it feels empty.
To make a long story short, I decided to consolidate everything into the bedroom. Now it had both TVs, all the chairs I could move, and so on. I considered moving the couch, but it wouldn't have fit through the bedroom door.
One more coating of Fabreze and we were ready to start.
Well… almost. There was one more problem. After the consolidation the living room was pretty empty. First impressions are important and now when people arrive they'd enter this big empty room. You can't see the bedroom from there. That means when you arrive you walk into this big empty space. The party is completely hidden. I was concerned that people would arrive and enter this big empty space and think "nobody's here! this looks like a trap!" More on that later.
Room Pictures
On arrival you're offered your choice of wristbands. Red (don't touch me), yellow (maybe), green (I'm here to play!). I also had pink (sissy/sucker) and blue (suckee) wristbands for those interested.
The welcoming station looked like this: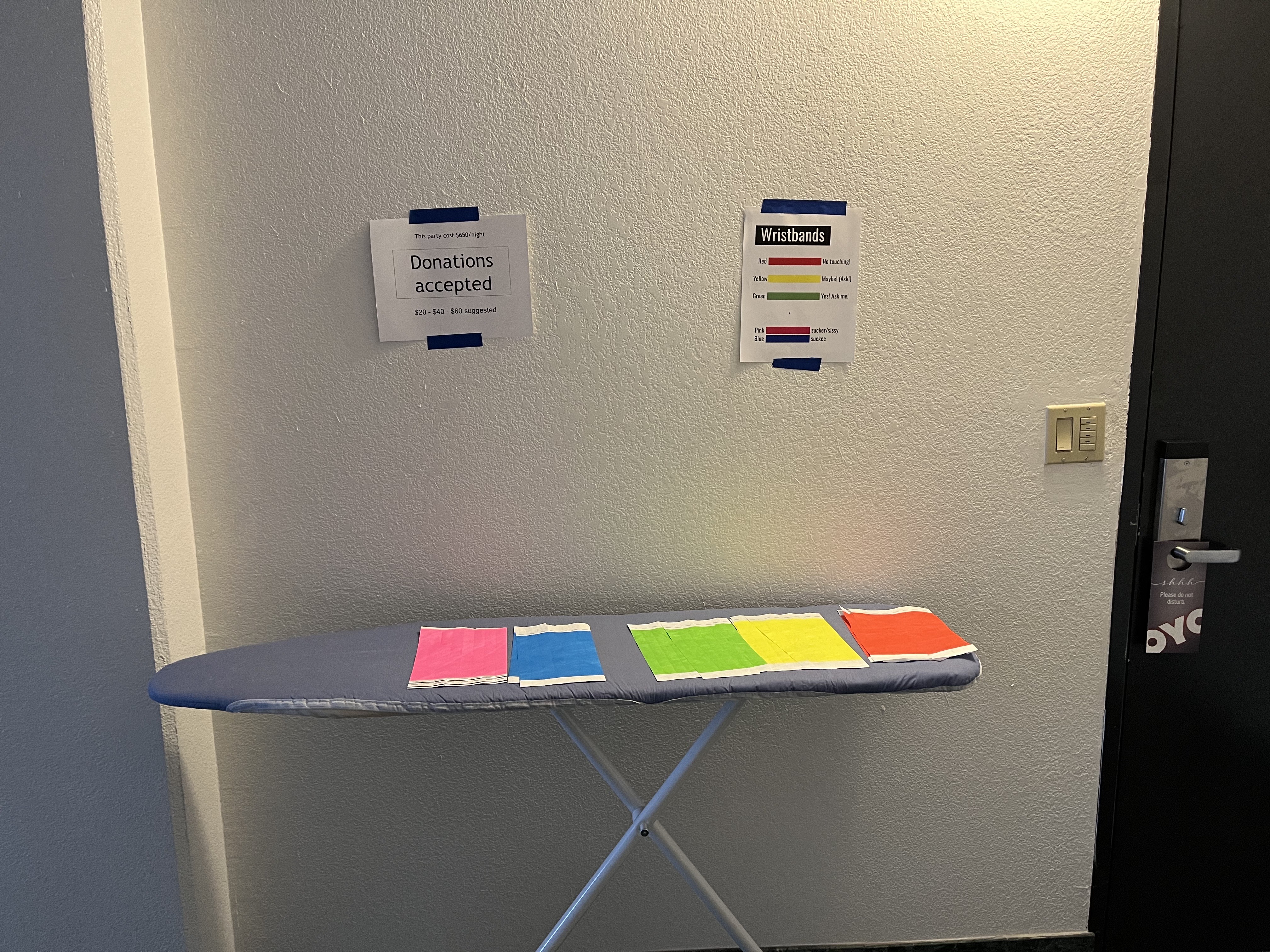 This is "the empty front room" that I mentioned earlier. The chairs in this picture were moved to the bedroom. People that took a break from the party would come here and sit on the couch for a bit. All-in-all, it worked pretty well.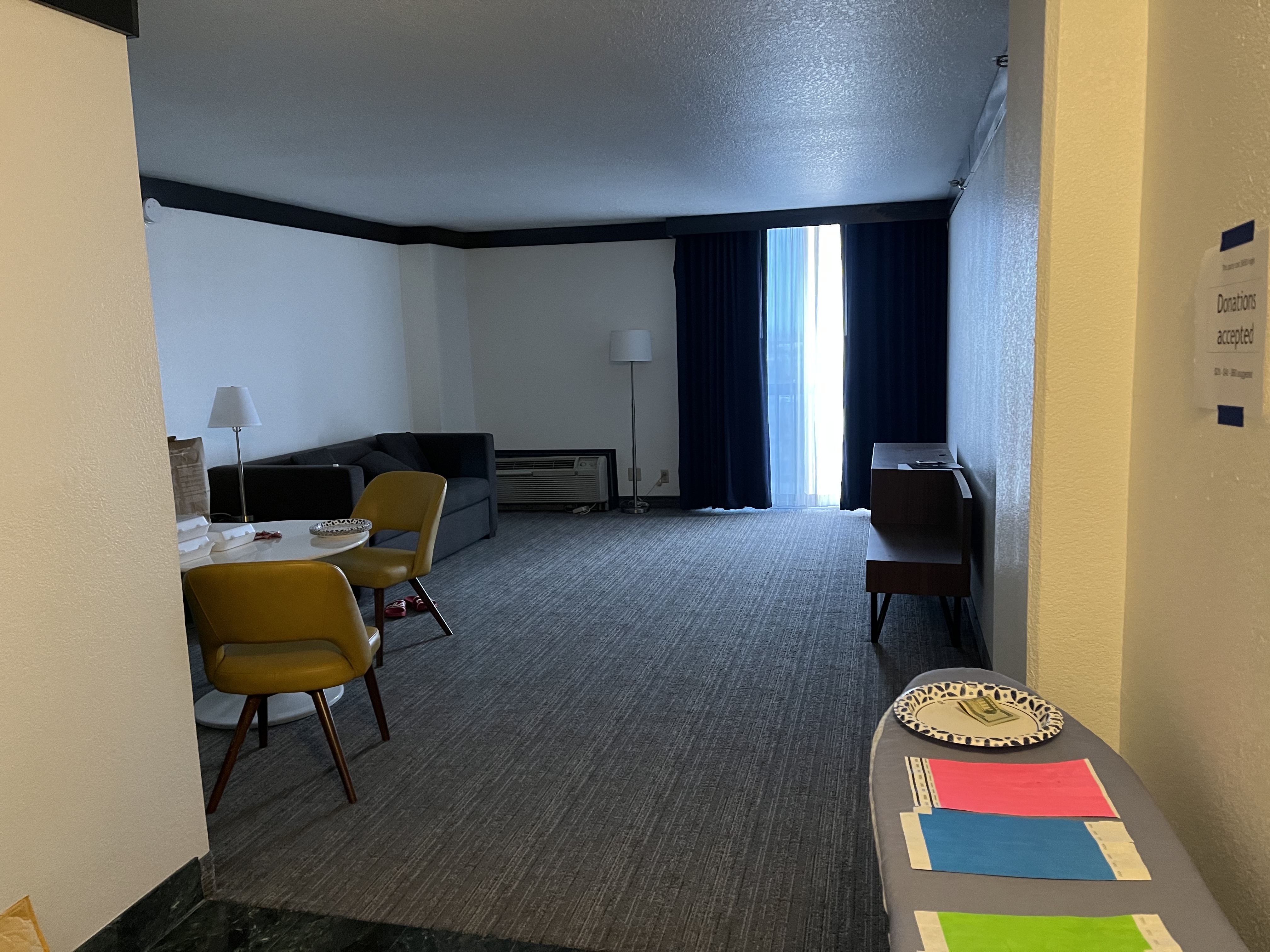 These next three pictures are what its like to go from the main room into the playroom.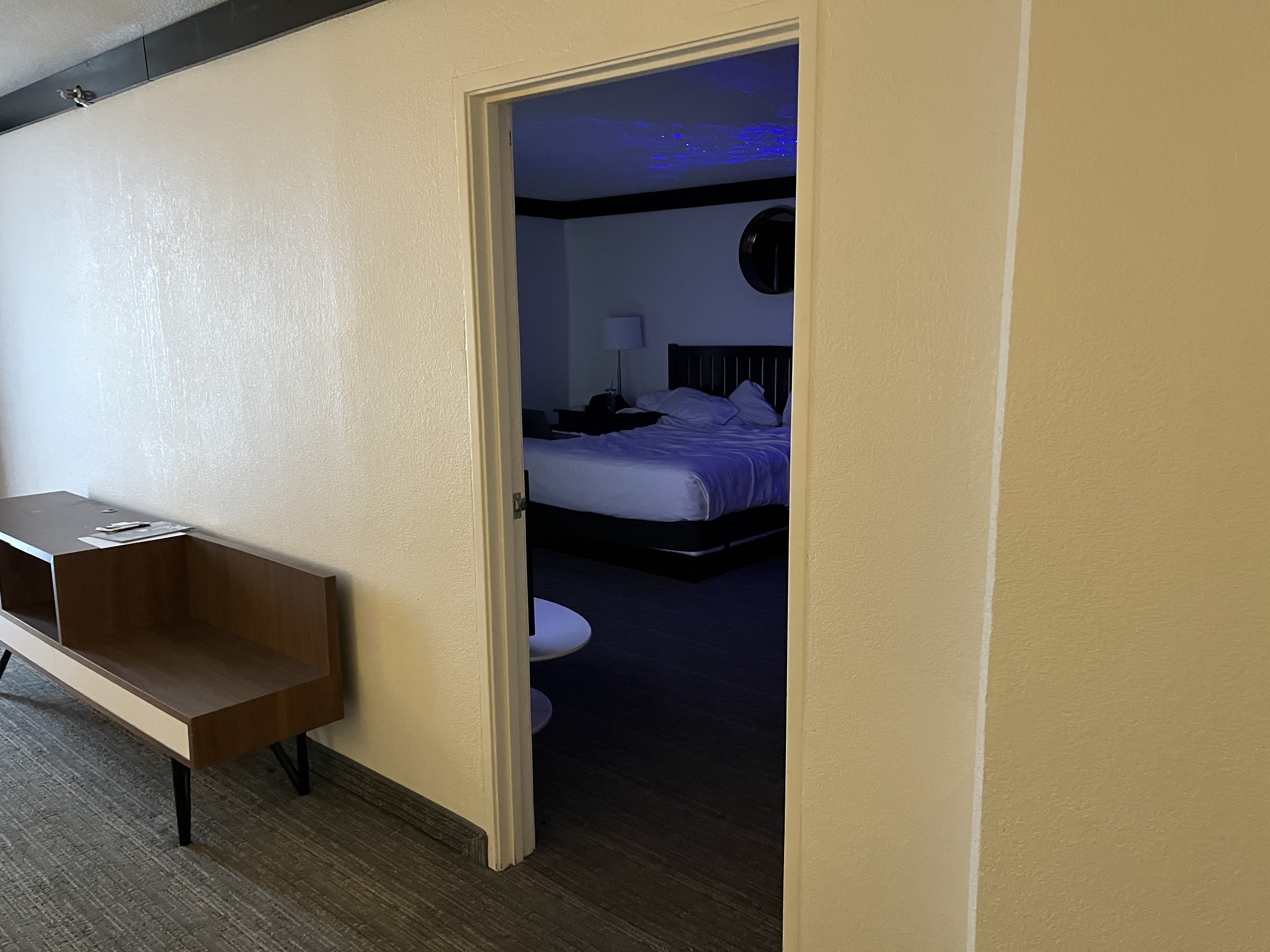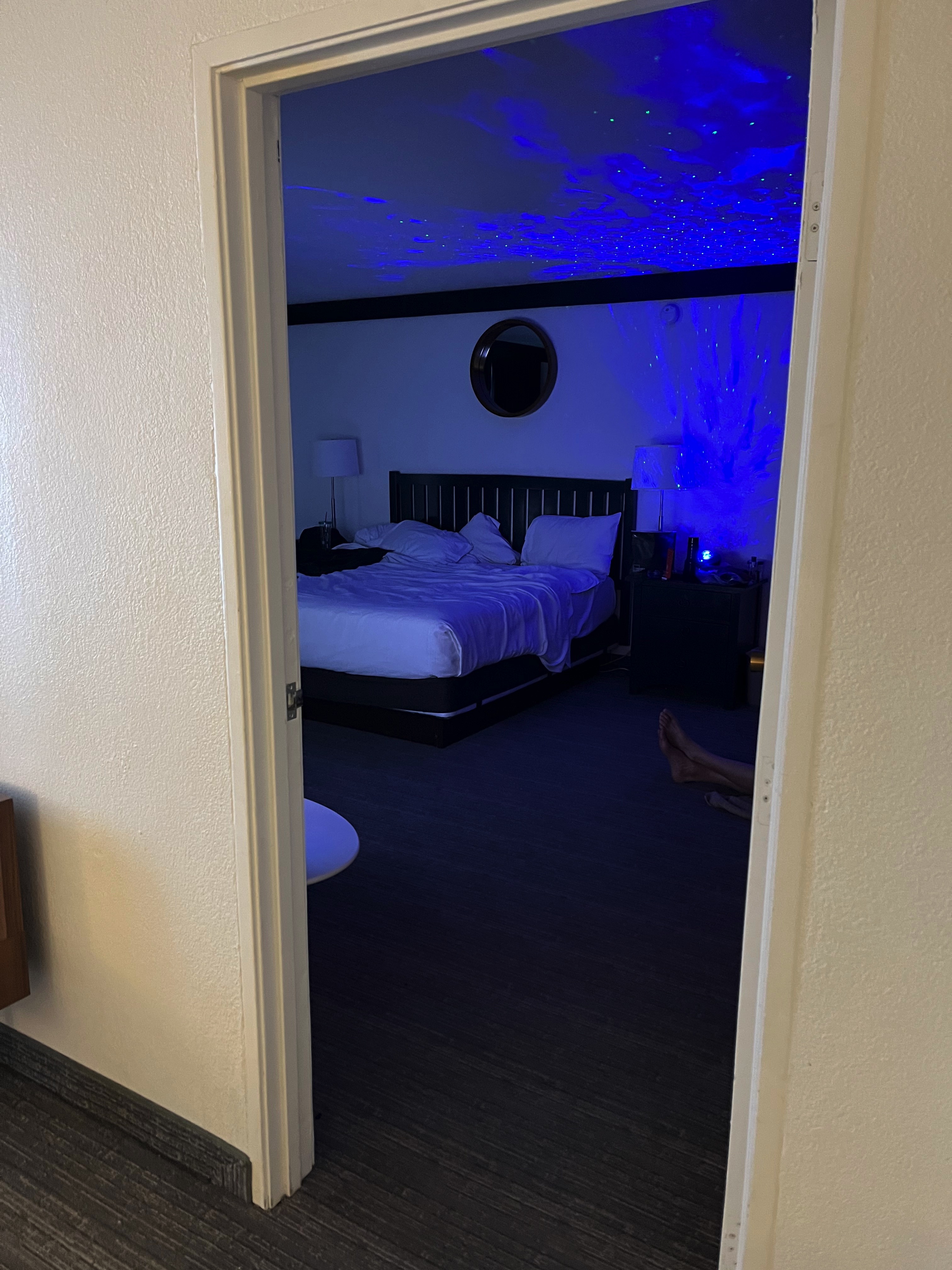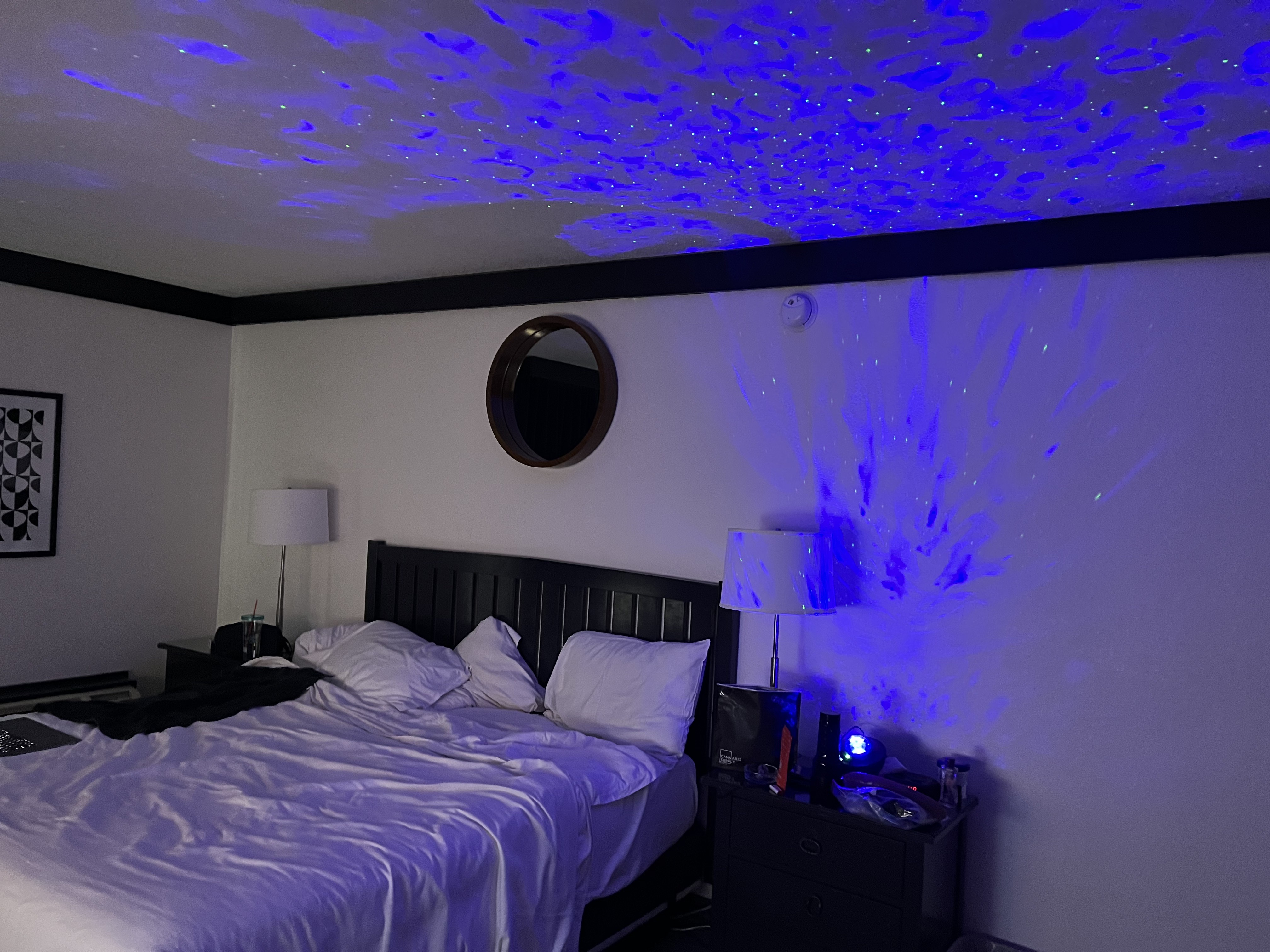 Finally you are inside! Time for porn!
The middle screen had good audio and was the primary screen. On the left side I was playing longer videos with the sound off. On the right side was a projector playing a stream from Discord, usually one from Porn Streaming Hub or GOONED .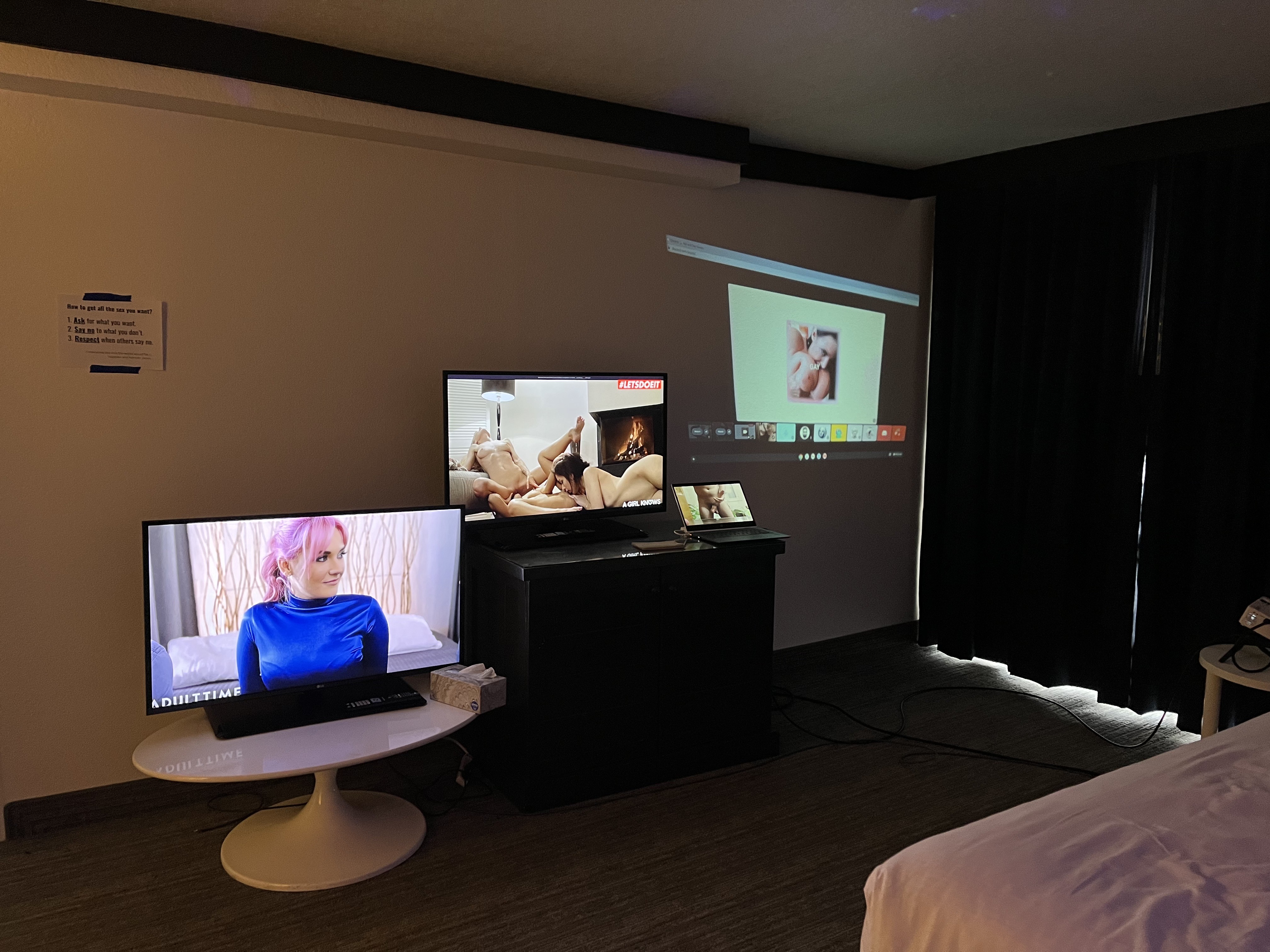 another view of the screens…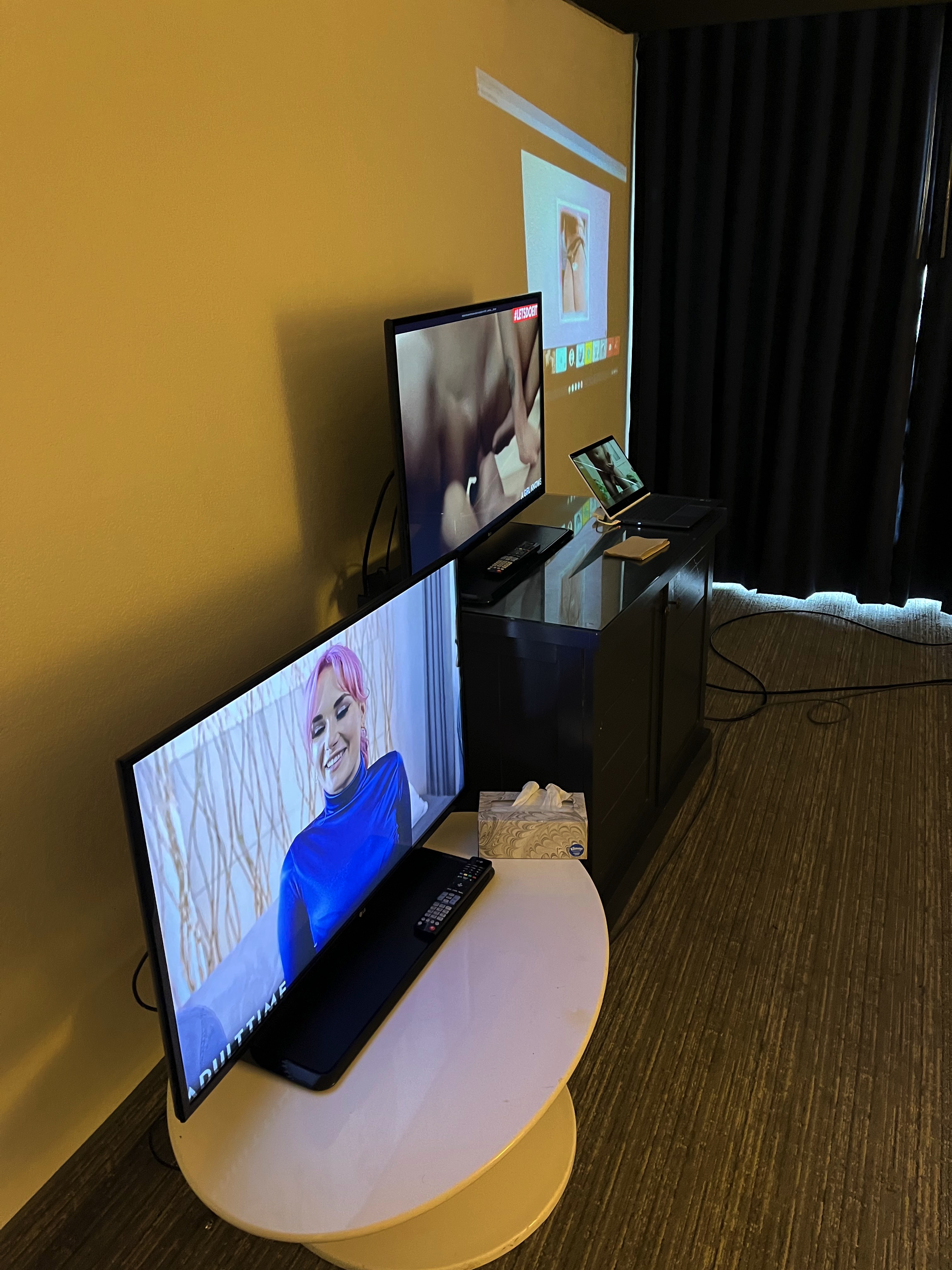 There were usually 3 people on the bed. In this picture you can see my DJ station (so fancy!) and the black towel I was sitting on.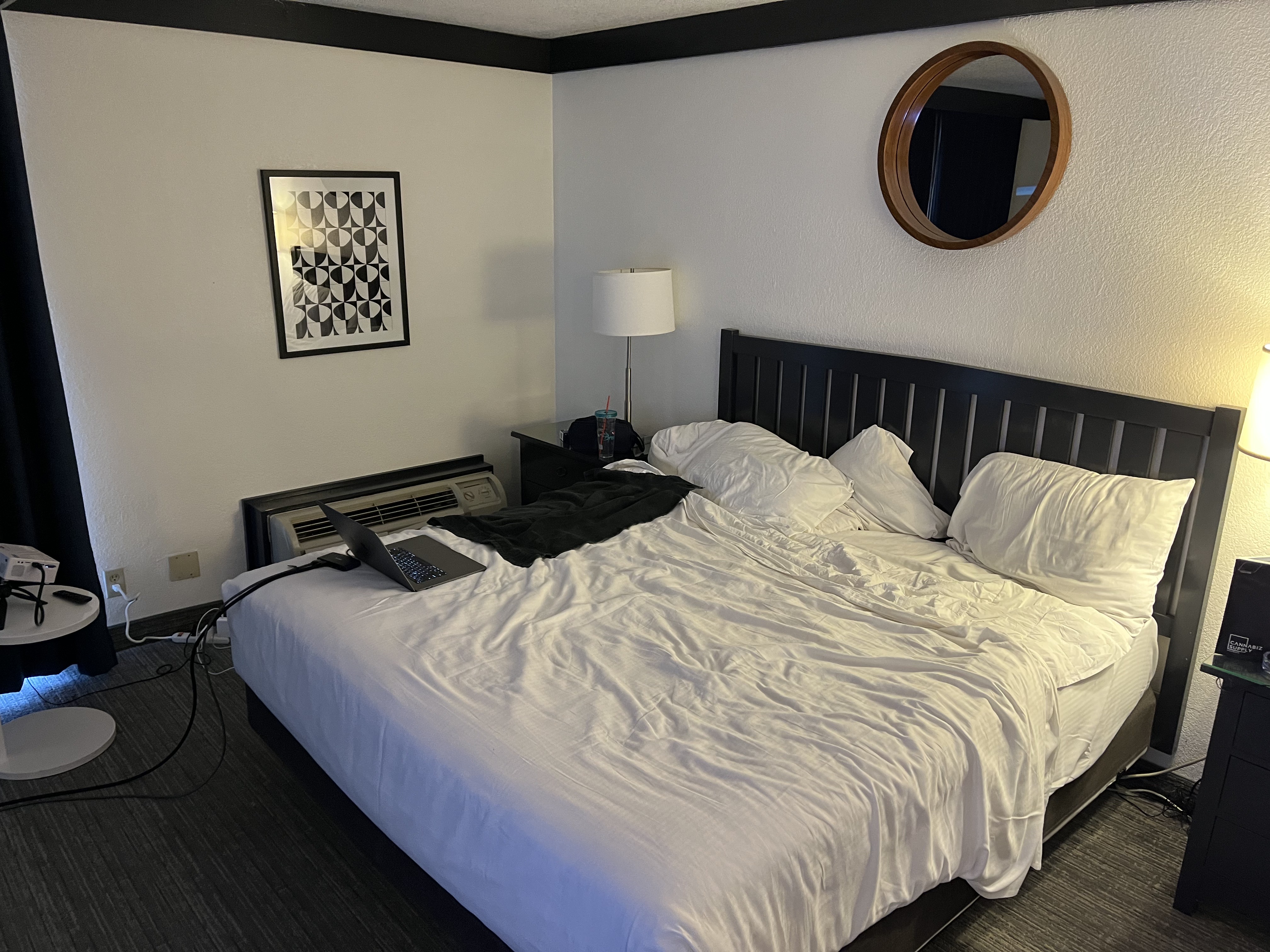 I wish I had taken more pictures at night time. When it was darker the room had a really nice, sexy, atmosphere. The blue ceiling light made a big difference. The pictures I did take didn't really capture all that. You'll have to believe me.
Obviously for privacy reasons I don't take pictures when anyone is at the party. People frequently ask me to take pictures or to set up a camera so folks can join the party virtually… none of that is going to happen for privacy reasons. Sorry!
Pre-event RSVPs.
I went from panicking that too many people would show up, to panicking that nobody would arrive at all! In the end, the perfect number of people were there.
There were 95 RSVPs if you include all the "maybe" and people that RSVPed but didn't fill out the full RSVP form. 95 people? OMG! That's way too many! I kept reminding myself that "maybe" usually means "no" and most people are no-shows anyway.
At 4pm the party started… and nobody showed up for the first half hour. So, that's when I was in a panic that nobody would show up at all.
Party Organizing Tip: For safety and privacy reasons I only tell people the hotel name/address once they've RSVPed. Even then they are not told the room number. I tell people "txt me when you are on your way". I do this for two reasons. First is for safety and privacy: the fewer people that know the room number the better. The second reason is for crowd control: If the party was overflowing, I could simply tell people to go away or wait.
The sexy part
So, let me tell you about the party itself…
Saturday:
The first people showed up at 4:30pm. I was just finally ready with all the video screens, computers, lights, and so on. So, the timing worked out just great.
It seemed like every half hour another 1-2 people arrived.
At 4:30 the first two people arrived, got their wristbands, got naked, and started stroking themselves as they watched the big screens. I asked for their "porn requests" and they both said they were fine with what was playing already.
About 10 minutes later the black guy was sucking the white guy. I was so happy to see the enthusiasm!
Shortly after 5pm there were 5 people in the room. Wristbands were 3 yellow, 2 green (no red at that point). Around 5:50pm a guy came with a loud moan. Everyone watched.
By 6pm there were 7 people in the room.
Shortly before 7pm a few more people arrived. There were 3 sissies (one fully dressed, one in leggings, and a NB sissy/gooner in a mesh body stocking).
The "Sissy Hypno Hour" started at 7pm sharp! Because it is confusing to have audio from multiple videos at the same time, I only played the audio on the big screen. The other two screens showed longer videos that would be effective without the audio: They had captions or other visuals. This took a lot of planning but was totally worth it.
All eyes were glued to the screens as the hypno hour continued. The main screen (with audio) started with gentle hypno videos that encouraged gooners to go deep. Each video got louder, more intense, more demanding. The first few were about "going deep" with a gentle women's voice encouraging guys to think about cock. Next I played a babecock video, one that tested straight guys ability to watch the babe, not the cock that was also on the screen. Soon I was playing "straight to gay" hypnos with loud, pounding music encouraging full sissy conversion.
As the videos got more intense and demanding it seemed like everyone froze.. eyes glued to the screens. Of course, hands were stroking faster and faster. I skipped ahead in my planned playlist to the most intense, loud, cock-loving, homo-encouragement videos. People got a break as I switched to a short, quiet, hypno with a sweet women's voice, but then finished with the videos that I had saved for the end. This grand finale was 13 minutes of intense "go deep" message with music that had an intense, hard pounding, rhythm.
At one point during this I looked over and saw a CD was sucking a guy. Good girl! Others were stroking each other's cocks. Looks like the hypno hour was a success!
The room was getting crowded at this point. The bed was full (3 people) and the two chairs the hotel provided were taken. With no other place to sit, people laid out blankets on the floor, which worked out pretty well!
Three people were sitting on the floor with their backs against the foot of the bed. This gave them perfect front-row seats to the screens.
I was on the bed and was curious how they were doing so I scooted towards the foot of the bed to take a peek. The three guys were stroking each other! The person in the middle was being stroked by the other two… two hands massaging and stroking that long black shaft. The person in the middle had each arm extended and was stroking the cocks on either side (like he was skiing). They were all getting hot and heavy and I was getting hotter watching them. They couldn't see that I was watching from behind, and I didn't want to disturb their fun.
I noticed that all 3 were wearing green wristbands. I couldn't have planned it better: the floor between the bed and the screens, all with green wristbands going at it. Maybe at future parties we should have a "green zone"?
People kept arriving and leaving. Most people stayed for 2-3 hours and left after they came one or twice. However a few people stayed for more than half the party.
Around 8:30pm someone arrived, walked around a bit and informed me that he would be leaving because he had thought there would be more women. Obviously transwomen are women, but I think this guy meant he was looking for pussy. That's not what this party is about.
When I returned to the main room it seemed like everyone (except the red wristbands) were happily watching porn while stroking the buddy next to them… and the people with red wristbands were having an awesome time enjoying the videos and atmosphere!
Saturday: And interesting ending… and new beginning?
Around 10:30pm there was 7 people in the room and a small discussion started. People asked me about what it takes to set up this kind of party. I explained some of the interesting challenges I had. It was also an opportunity for me to ask for feedback, especially about the room setup. We discussed everything from how I pick the location, where I advertise, and such. The porn was still playing and people were still stroking but we had a really interesting discussion.
Some of the attendees were interested in hosting parties themselves, which I was very glad to hear. I don't have a monopoly on these kinds of parties and, in fact, would really like to see new parties pop up. My sincere hope is that these parties will inspire other people to start parties. I can only visit Vegas rarely, but they are local. They decided to exchange contact info and discuss hosting parties monthly; I agreed to mentor and help in any way I could. (Note: I'd be glad to mentor anyone interested in hosting their own party.)
Everyone was gone by 11pm. I lost count at one point but I'm pretty certain that 20 people (including myself) attended the party, the most people in the room at any point was 8. I counted at least 5 blowjobs and more handjobs than I could possibly count. About 1/3rd to a half of the attendees were non-white or people of color. There were many sissies, one if full drag, two partial (just stockings or panties), and a few self-identified sissies that didn't dress at all. I didn't count wristband colors but the majority picked yellow, only 2-3 picked red, and the rest picked green.
Sunday
Since the party didn't start up again until 4pm, I had a lot of free time. I cleaned the room, walked around the Las Vegas Strip for a few hours, and did other tourist stuff.
I had packed up most of the party stuff so that the cleaning staff wouldn't suspect anything. Sadly nobody came to clean the room by 3:30pm so I made a mad rush to re-setup the party by 4pm. I did get someone to replace all the used towels and give extras, so all was well.
I had to set up a little "lost and found" box. There were 3 towels, a cockring, a few bottles of poppers and lube. I'm glad people brought towels (helped deal with the lack of seating) but I was surprised people left them behind.
By 5pm there was 4 people in the room. I was in the mood to suck cock and by 6pm I had sucked two.
Most of the people arriving had attended on Saturday. Returning guests is the best compliment I can get! Thus, my ego was stroked not just my cock.
At 7pm it was time for Sissy Hypno Hour and nearly everyone in the room had attended Saturday, so I started with the more intense hypno videos. I was afraid that it might be a turn-off or scare people away. Instead, everyone's eyes were glued to the screen as they stroked and listened to the hypnotic voices.
I should mention that with 3 screens I could make sure that there was always something for everyone. That is, one screen was always straight porn.
At 8pm there was 7 people in the room. By 9pm more people arrived. At 9:45 there were 5 people in the room.
The party was winding down around 10pm but one guy stayed until 11:30pm. For the last hour it was just the two of us, which was really fun for me. As the DJ, I could feed him exactly the kind of videos that he liked.
The last person to leave got a bonus: Anything I couldn't take on the airplane home (or just didn't want to keep) was free for the taking. He got some really good stuff!
I had an early flight out in the morning so I tried to clean up and pack as much as possible. I was asleep by midnight.
Post-party thoughts
Good things:
20 attendees on Saturday and 10 attendees on Sunday!
Everyone had a great time. There was tons of buddy-to-buddy interaction, including some 3- and 4-way action.
Everyone respected the red wristbands.
3 screens seems to be enough. More would have been difficult to DJ.
The "Sissy Hypno Hour" was popular.
The video/audio stuff all worked really well. I pre-downloaded most of the videos I played. That way I didn't rely on the Wifi, which was questionable.
Categorizing the videos ahead of time helped me handle requests easier during the party.
Best compliments I got all night: "You've shown me types of porn I didn't know existed!" and "You weren't kidding about creating a space that feels safe and comfortable!" Those compliments made me very happy!
The hotel room worked out well. It was dirty and cheap, but Febreze worked wonders. The entrance door could be open without exposing what was going on in the playroom.
Pizza. While most people didn't eat at the party, I did order a pizza. People also brought water and soda, which was much appreciated.
Could have been better things:
While everyone was well-behaved, one guy loudly announced that he was "here to get a blowjob" every few minutes and we had to explain to him that that kind of behavior wasn't appreciated. He eventually left.
Sunday turn-out was small and fun, but maybe one night would have been enough.
I couldn't have as much fun because I was constantly having to start the next video or answer the door. It's hard to cum when you keep getting interrupted. In the future, I need to use a video player that lets me queue up videos in advance, and have a co-host to answer the door.
Having to change venue at the last minute sucked but the new venue worked out just fine!
Thanks and gratitude!
I'd like to thank all the people that attended. It wouldn't be a party without you. Also, my kink is watching guys have fun so .. thank you! Special shout out to the sissies!
Thanks to the hotel staff for ignoring us. (Who invented those "privacy please" doorknob hangers? That person deserves an award!)
A special thanks to the people that came from out of town. I love that enthusiasm!
And thanks to everyone that brought food, drinks, toys, lube, and other fun stuff. It really made a big difference.
See you next time!