Party Recap: Edison, NJ Oct 21+22, 2022
Published: Category: Recaps Estimated Reading Time: ~8 minutes 2022nd edison, nj
Recap of the October 21 + 22, 2022 parties in Edison, New Jersey. Our 18th and 19th parties!
Summary
Background
This party was hosted a few miles from the Exxxotica Expo in Edison, NJ. Exxxotica is a large adult event, mostly vendor booths and pornstars signing autographs. It is like ComicCon but for porn. Their events rotate around 4-5 cities. This is the second time we've hosted a party the same weekend as their Edison event. This way people traveling to the Expo can easily attend RPM too.
This year we decided to host 2 parties, one Friday and one Saturday.
The Friday event was our normal RPM party. Saturday promised to be more women-friendly. Women are always invited, of course. However Saturday's party had two differences. First, we had female co-hosts and second, the porn was more women-friendly.
Stats
133 RSVPs: I forgot to disable RSVPs at the cut-off. Oops! About 30 people RSVP'd for the party after it even started.
Friday: About 40 people attended; not all at once, of course. There was never more than 15 people in the room at any time.
Saturday: About 50 people attended; not all at once. There was never more than 20 people in the room at any time.
FunFact: I forgot to disable RSVPs at the cut-off time. More than 30 people RSVP'd after the event started. Sorry, folks! I don't check email during the party. In the future I'll be more clear about when RSVPs stop, and I will disable the invite system at that time.
The Setup
When you entered the hotel room you a co-host greeted you and offered you your choice of wristbands. This party also had… SNACKS! Yes, I finally gave in and supplied some food in addition to bottled water.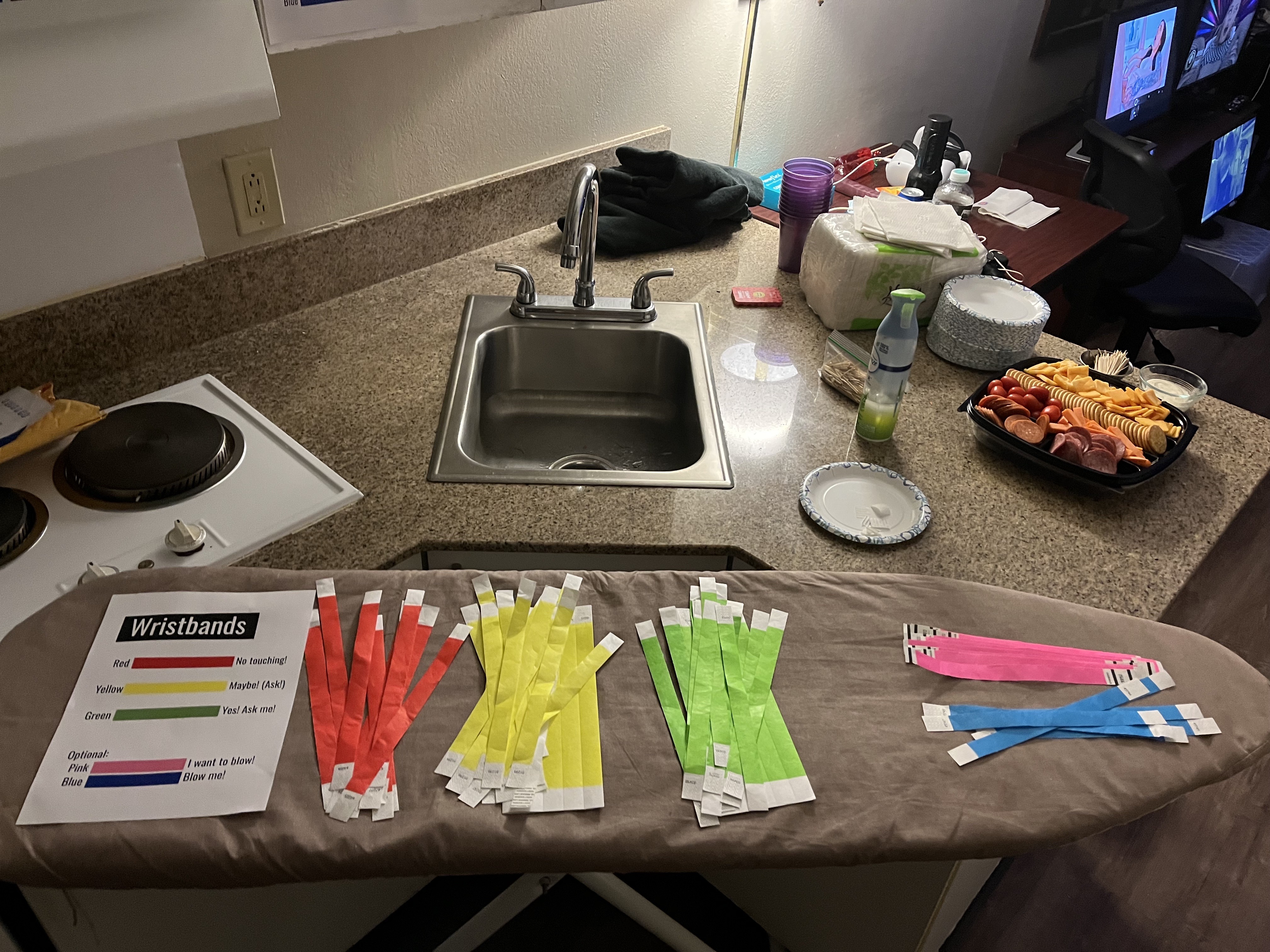 Sadly the pictures I took didn't turn out very well. Here's one that shows the many screens that were going.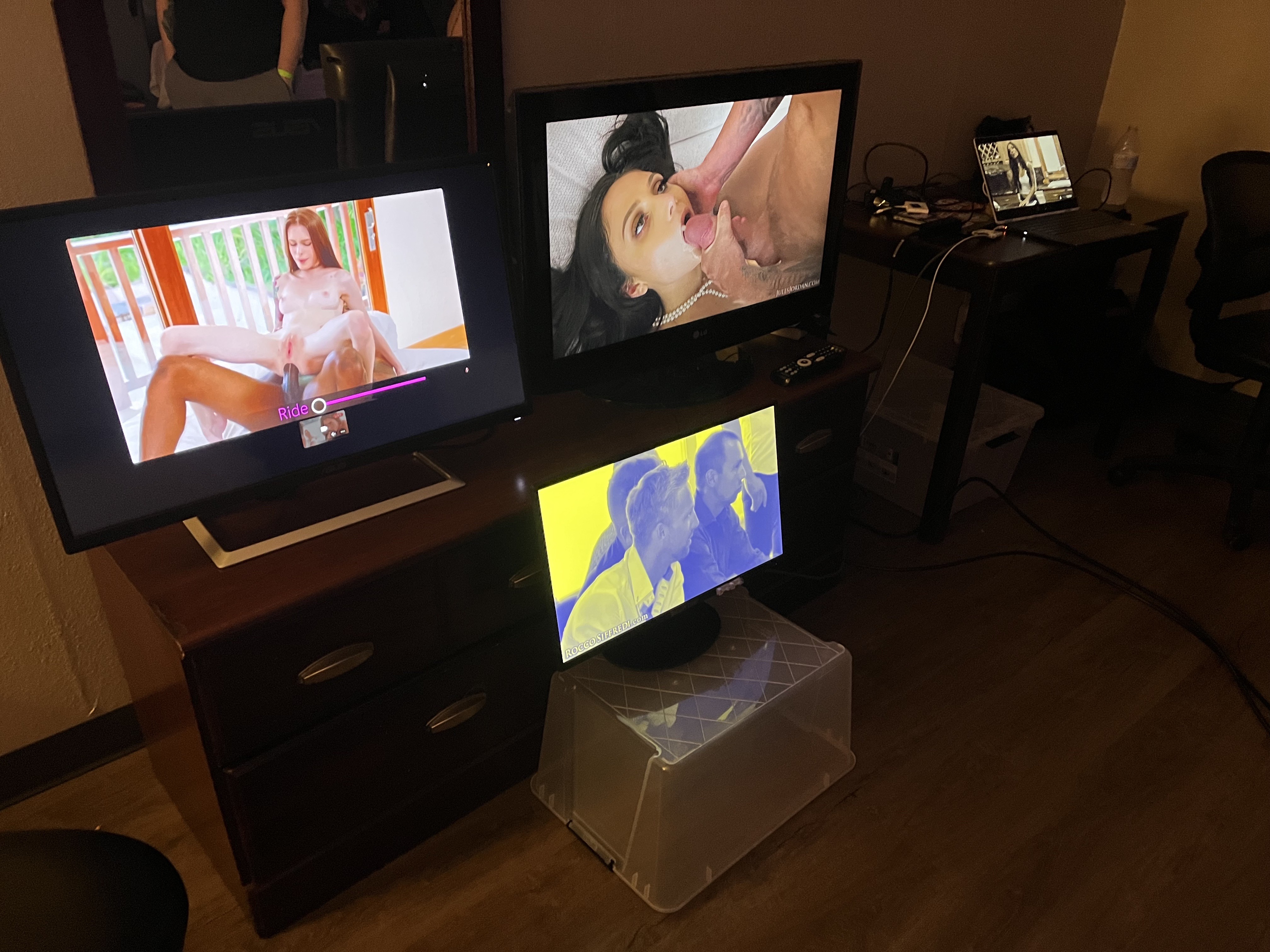 I'll try to take more pictures next time!
The timeline
Both parties ran from 5pm until midnight.
Party 18: Friday
I was a little late getting set up. Luckily the early arrivals were willing to help with the setup.
Some highlights:
6pm: 5 guys watching porn.
6:30pm: 7 guys in attendance. At least 2 handjobs, 1 blowjob
7pm: 8 guys in attendance. 2 guys were curled up, one behind the other. The one in back stroking the one in front.
7-8pm: Hypno hour: As announced, a full hour of hypno porn. On the main screen I played a playlist I had been working on for a few weeks. The other screens (with the audio off) displayed playing quick-cuts, captions, and other "mind melt" videos. I love how the room gets quiet and everyone gets so focused on the screen when we do this.
7:30pm: our first frotting of the night! One guy was on top facing the other.
8:30pm: 14 people. 3 CDs arrived (2 arrived with each other). 1 was getting sucked while another was stroking her.
9:15pm: 12 people. 3 new arrivals, some departures.
10pm: 9 people. A sissy was giving head. 2 guys were bro-stroking.
11pm: 11 people total. A woman arrived and was very enthusiastic about joining in. She ended up in a 3-way jerking and playing.
After the party ended the 3-way stayed around and became a 4-way. They stayed until after 2pm. Super hot!
Party 19: Saturday
The hope was that a lot of couples would attend on Saturday. It worked! 7 women attended: 2 co-hosts, 3 single females, 2 arrived as party of a m/f couple. Most of the women wore red wristbands. The women that arrived with a male partner tended to play with their partner.
To the guys hoping that women attending meant they'd get laid: You are totally missing the point of this party. The fucking is on the screen. Only one guy was creepy, and I eventually encouraged him to leave.
Sadly Saturday night was so successful that around 9pm the party was too full. There was no place to sit. We (the hosts) hadn't planned for this as we didn't expect the room to be so small, nor the crowd so large. Sadly the room was so full that it was uncomfortable. There were no chairs left and the beds were full. People stood by the bed waiting for room to free up, or they were on the bed and it was so crowded that it was uncomfortable.
To solve the overcrowding we paused the videos for a bit and asked people that had been there a while to leave to make room for the new people. That didn't work at first and that was aaaawkwaaaaard. However eventually 4 people did leave and the party became a lot more fun again.
Some highlights:
7pm: 7 people in the room. A sissy was getting stroked. A woman had a LoveSense vibe in her.
7:15pm: 3 guys were in a circle-jerk
7:40pm: 14 people in attendance.
8pm: 15 people in attendance.
more and more people arriving
9:15-9:45pm: This is when the room was too full.
10-midnight: back to normal.
About the porn: I had done a survey (and some informal polling) about what kind of porn should be played to make Saturday more friendly to women. The feedback I got was that the porn should be long scenes, not the "quick cut" and "hypno" that gets played at the regular parties. That worked out pretty well. However at 10:30pm I asked the women in attendance if they wanted to see what the Friday porn was like. They were curious! So, for about 30 minutes I played some of the most popular videos from the hypno hour. It got a mix of reactions. Definitely some women were glued to the screen. Others were definitely watching the non-hypno screens. It was an interesting experiment!
Feedback!
I sent out a "customer satisfaction survey" after the party. As usual, not a lot of people filled out the survey. In business, 10% response rate is considered excellent so I don't have high expectations. However I do carefully read every response and use what I learn to improve future parties.
Friday received 3.5 stars (out of 5). Some comments included:
"It was my 1st time at a party and everyone was very respectful of each other."
"Porn vids are fire - I like the virtual option too"
2 people commented the room was too hot
One person requested a 2nd room where sex would be allowed.
Comments about the porn included:

"Not enough hypno"
"Too straight"
2 people commented that there were "Too many screens going at once"
"great job VJing - room could have been a little darker, the party lights prob would have been sufficient."
Saturday received 4.2 stars (out of 6). Some comments included:
Many comments about the room size and overcrowding.
100% agreed with the statement: "I felt safe/comfortable the entire time"
40% agreed with the statement: "I was nervous at first, but I felt safe/comfortable eventually"
40% agreed with the statement: "The host did things that made me feel safe/comfortable"
Comments about the porn included:

"It was perfect"
"Too much trans/shemale/ts" (same person said the porn was "Too tame")
"Not enough hypno, Might've been more vocal about any requests if there were fewer folks there."
"I liked that there were multiple screens playing different types of porn porn"

Other quotes:

One person pointed out that the large turn-out means we should have many more parties in Edison, not just during Exxxotica.
"Thank you so much for organizing the party, hope we can have more in this area again!"
"Thank you for hosting!!!"
What's next?
The party was a success! I'm guessing about 20 percent of the attendees had been to a RPM party before; repeat attendance is the surest sign that people like what we're doing.
Both nights were fun but personally I enjoyed Friday a lot more.
The Saturday party was a victim of its own success… this was the first time we had to deal with running out of space and we weren't prepared. We learned a lot and will handle it better next time.
The "couples/women night" concept was a success, but it was a lot more complex to organize. I didn't go into the details, but it was a lot more work for me. I'm not sure if that's because it is the first time we did it or if it will always be more work.
Next year: We'll definitely have a party the same weekend of Exxxotica in 2023. They've already announced the dates (November 3-5, 2023) and I'll be sure to get a larger hotel room. Mark your calendar!
Next party: Vegas, Jan 5!
To celebrate our 20th party, we're hosting it in Las Vegas! That's right! Sin City!
The party will be January 5, 2023 at a hotel near the Las Vegas Strip. This is the same week as the AVN awards. There are many fun events in Vegas that week. Come for the RPM party, stay for the AVN events!
Interested in coming to Vegas? Click here for more info! You don't want to miss this!
---