Invitation: Porn Watching Party: Las Vegas, NV, Jan 5, 2023
Published: Category: Party Estimated Reading Time: ~3 minutes 2023rd vegas
The next Real Porn Meets party will be Thursday, January 5, 2023, 5pm-midnight! Stop by for a quick cum or stay the whole time! The location is a hotel near the strip. First-timers encouraged!
---
NOTE: No RSVPs after noon on Thurs, Jan 5! I won't be checking messages after that!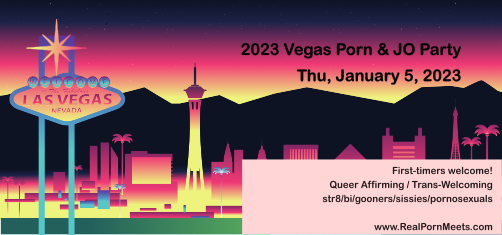 Gooners! Pornosexuals! Beginners and experienced pornaddicts! You are invited to Real Porn Meet's 3nd Vegas JO party! A fun night of porn and more! Fans of straight/bi/gay/sissy porn are invited! Whether you are a Vegas local or traveling from far away, this is going to be our best party yet! Don't miss it!
I stream the best videos from pornhub, hypnotube, and other sites on multiple big screens as the attendees watch and enjoy. Attendees are mostly straight and bi guys with occasional "buddy stroking" and more depending on the vibe. Sissies and sissy-wannabes encouraged!
We're expecting 10-20 attendees.
The AVN Expo and Awards are the same week. (No official affiliation)
Details:
Date: Thu, Jan 5, 2023
Time: 5pm-midnight (Arrive by 10pm!)
Cost: $40-60 suggested donation
Where: A mid-tier hotel 1 mile from the strip (RSVP for details)
Age: 19+ only, guys and sissies/CDs (women may attend). First-timers encouraged!
What: multiple video screens of porn!
Is this real? Heck yeah! This is our 20th party! Read our history !
Private and secure
Our parties cater to shy people and first-timers! We create a safe-space for all!
Our wristband policy is simple and strictly enforced to ensure a safe and fun time for everyone! When you arrive you'll be offered a choice of color wristband: red (don't approach), yellow (maybe), green (looking to play). (It's like a red/yellow/green traffic like, eh?)
Sissies and transpeople are welcome. You may dress at the party.
What to bring?
a towel to sit on
your favorite lube
toys
Be "shower fresh"
Can you bring a screen?

We're looking for 2-3 people to bring 40" or larger video screens. Can you help? Let us know!
FAQ:
Q: What kind of porn?
A: Bi, Trans, and Straight. Your host is a "Porn DJ" that takes requests!
Q: Buddy stroking?
A: Yes. (Ask first. "No means no.")
Q: Oral?
A: Yes (sissies encouraged to practice their skills)
Q: Weed ok?
A: 420-friendly. Poppers ok. Nothing harder.
What kind of porn?
Porn played at the last party:
Party Rules
Confidentiality: No photos/videos.
Consent: Ask before you touch. NO means NO. Consent is sexy!
Keep it legal: You must be 19 & older. Only legal porn.
Be "shower fresh" or be asked to leave
Stroke your dick, don't be one! This isn't the place for hate, including racism, homophobia/transphobia, sexism/misogyny, or overall bigotry & un-brotherly behavior. People that attend may be all colors, all sexual orientations, all genders: str8+curious, pornosexual, sissy, solosexual, and things you haven't seen or heard of before.
Keep it safe and sane. You will be asked to leave if you break these rules or act in ways that make the host and others uncomfortable.
Parties are for first-timers and experienced folks too. If you are experienced, try to make the first-timers comfortable. If you are a first-timer, please let us know if there's anything we can do to help make you feel at ease!
Nudity is encouraged but optional. You be you, boo!
Have fun! Hey, that's what we're here for, right?
Questions? Ask on Discord or contact the host via the invitation form.
---