Party Recap: Chicago, IL, April 22, 2023
Published: Category: Recaps Estimated Reading Time: ~6 minutes 2023rd chicago
Recap of the April 22, 2023 party in Chicago, IL.
Summary
The April 2023 party in Chicago was small but fun. Our 23rd party! Twelve gooners showed up including one sissy.
Sadly this will be my last "remote" party. In the future all my parties will be in the NJ/NYC area. I want to focus my energy on building the gooner community local to me. I also want to encourage people to host their own parties. Why not find a goon bud and host your own?
I don't have a monopoly on the idea. I didn't invent it and I don't "own" the idea. Anyone can do it! In fact, everyone should consider hosting their own parties! In the future I'll be writing a series of blog posts about how to get started. You can also ask me for advice on Real Porn Meets Discord Server . Parties don't have to be big, complex, affairs. A small hotel room with 2-3 gooners and a laptop is a great formula for success! Heck, it's how I got started!
Stats
This was the 23rd party!
12 attendees
There were 51 RSVPs and 12 people showed up. A 75 percent no-show rate bums me out but it's actually quite typical. What I've found is that people that RSVP far in advance generally don't show up, and this time I opened RSVPs nearly two months early, giving people tons of time for conflicts to appear. The no-show rate is better in NYC/NJ because the repetition is building a community of people that attend frequently.
The survey I sent out to people included mostly comments like "Something came up", "just bad timing", "I couldn't get free" and "Not sure, just nerves."
---
The Setup
The hotel suite had two rooms: You arrive in the "outer room" which is set up as more of a chill and socialize space. The "inner room" is the "goon cave".
The Welcome Area
Of course the first thing we do is set you up with your wristband: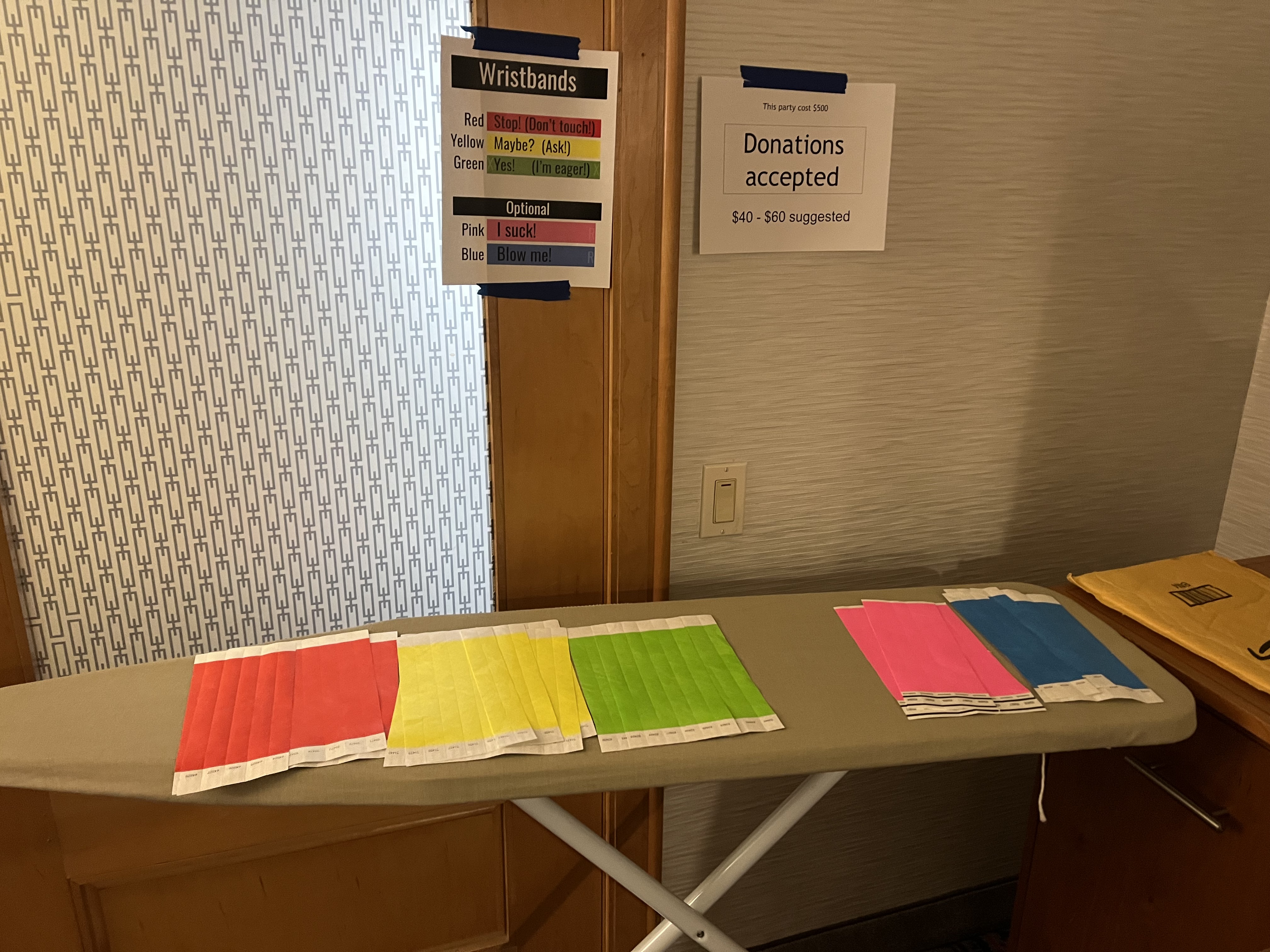 The colors make it easy to give/withhold consent: Red means "No, don't approach me", yellow means "maybe?" and green means "yes! Please ask!". If you didn't notice, it's like a traffic-light. Oh, there are two optional colors: Pink for "I suck" and blue for "Blow me".
Looking into the goon cave
The outer room has a laptop for people that want to pick their own porn. It's also a good "chill out" space for people that need a break.
From there you see the goon cave:
---
Enter the Goon Cave!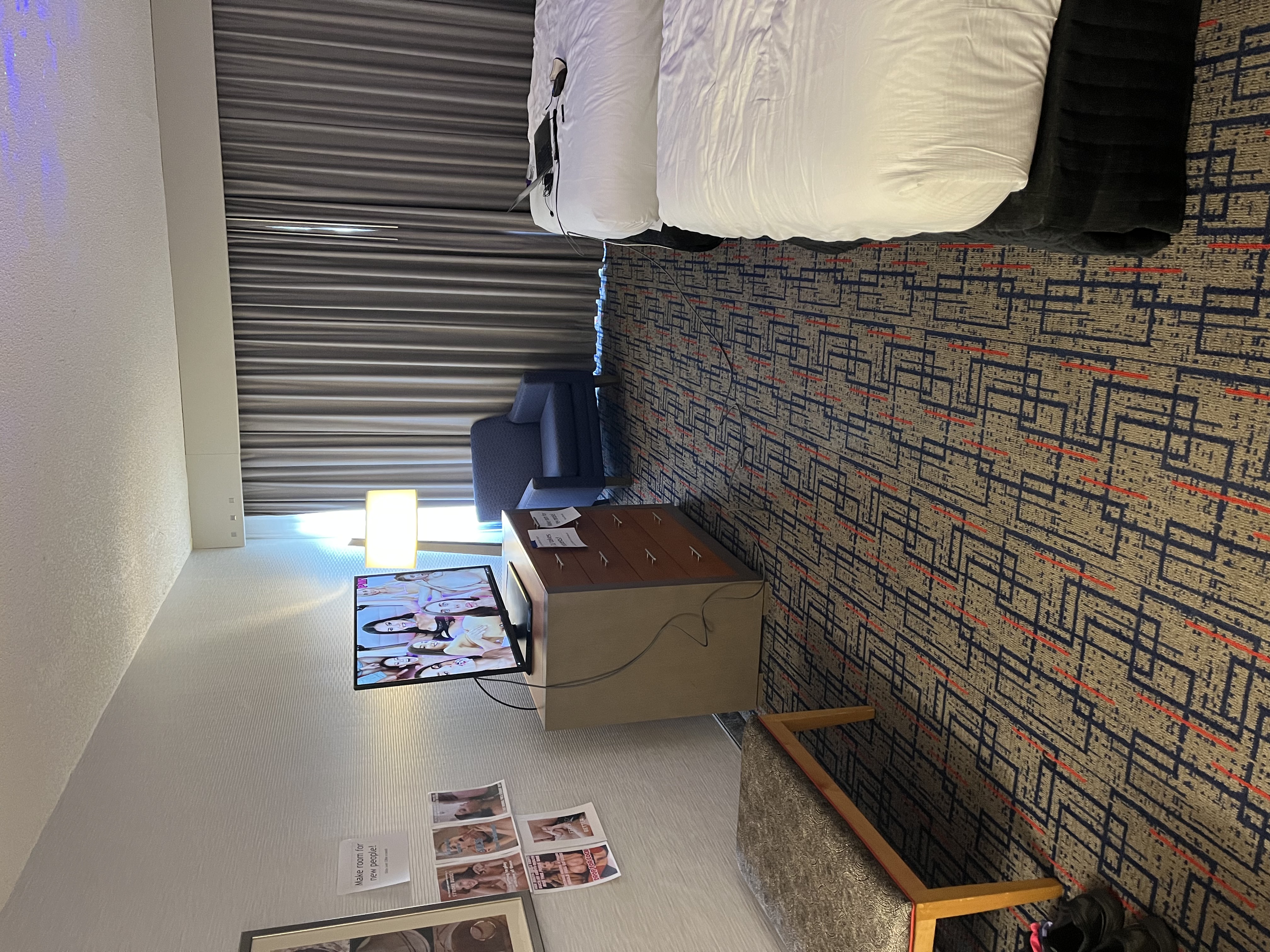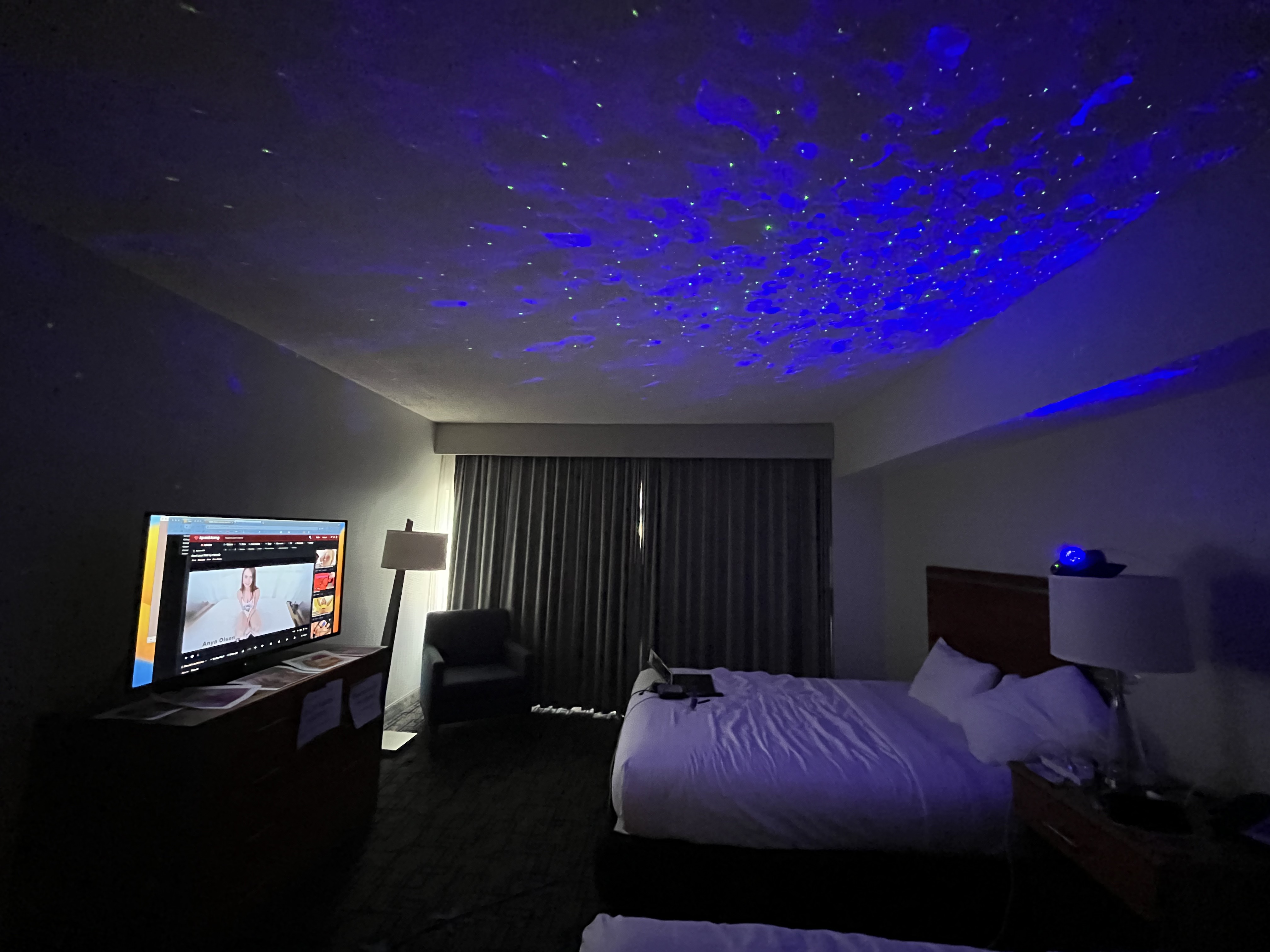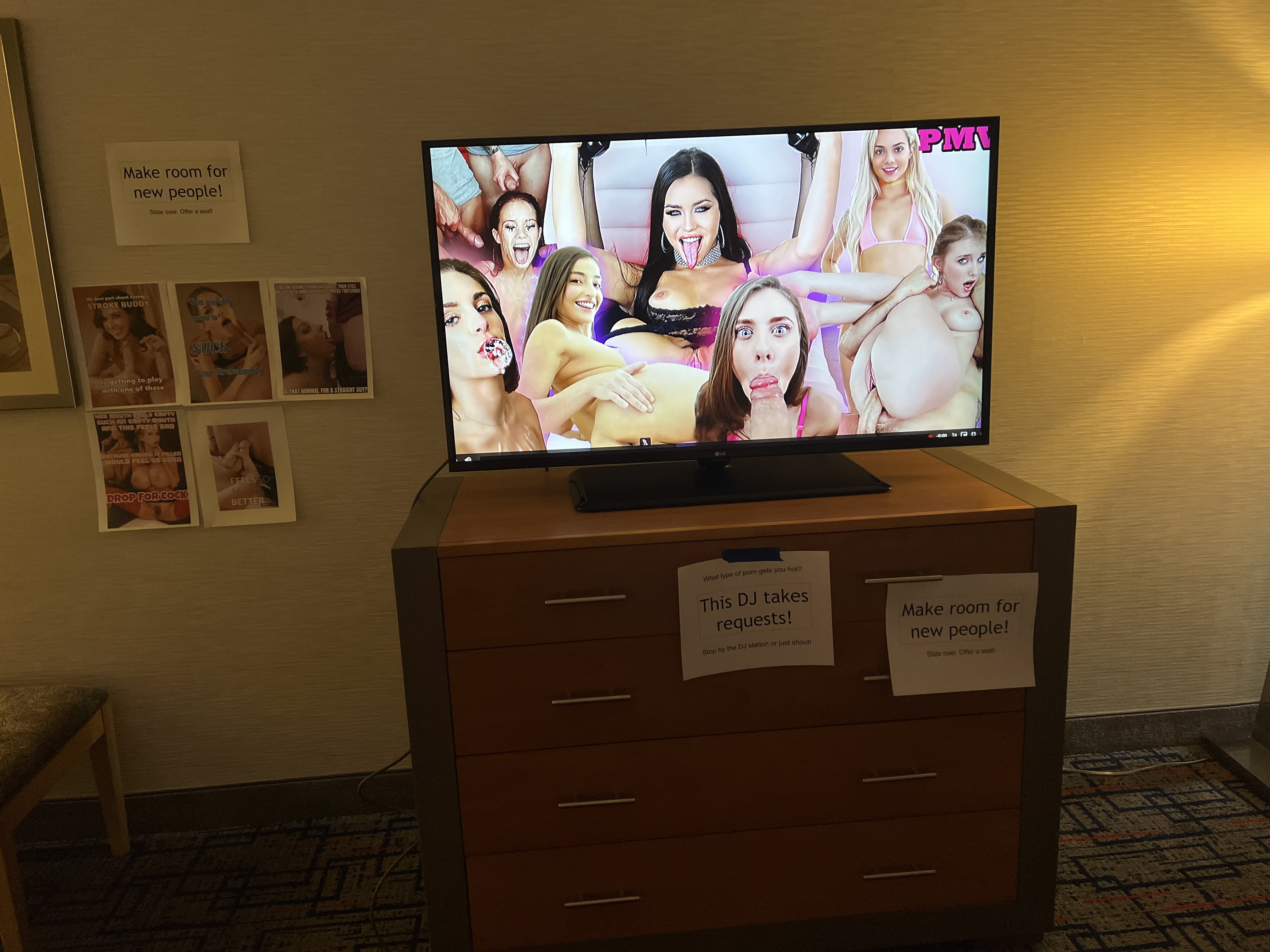 Eventually we had 3 screens. After these pictures were taken someone arrived with 2 laptops.
---
Posters! Posters! Posters!
I decorated the hotel room with "motivational posters".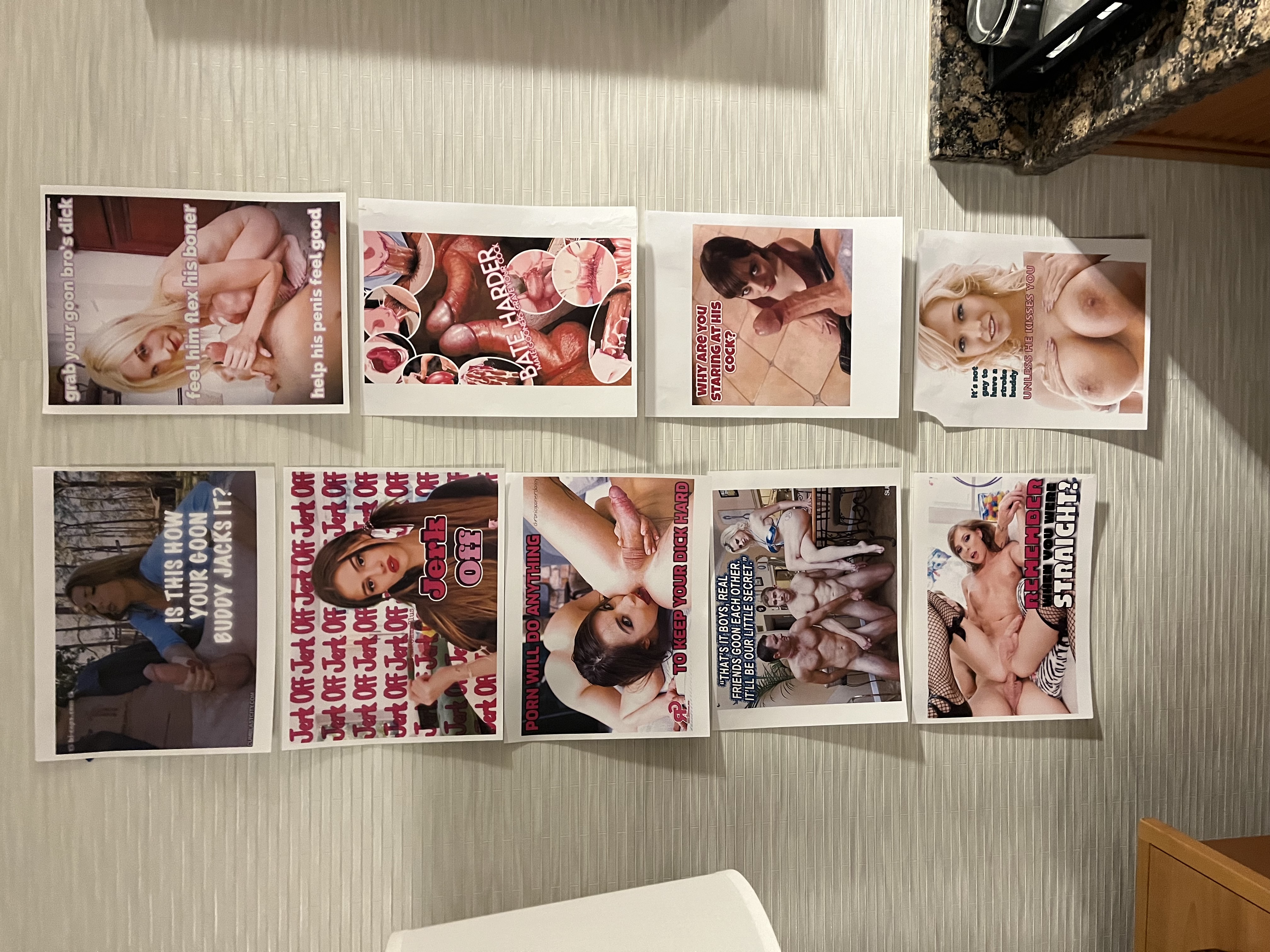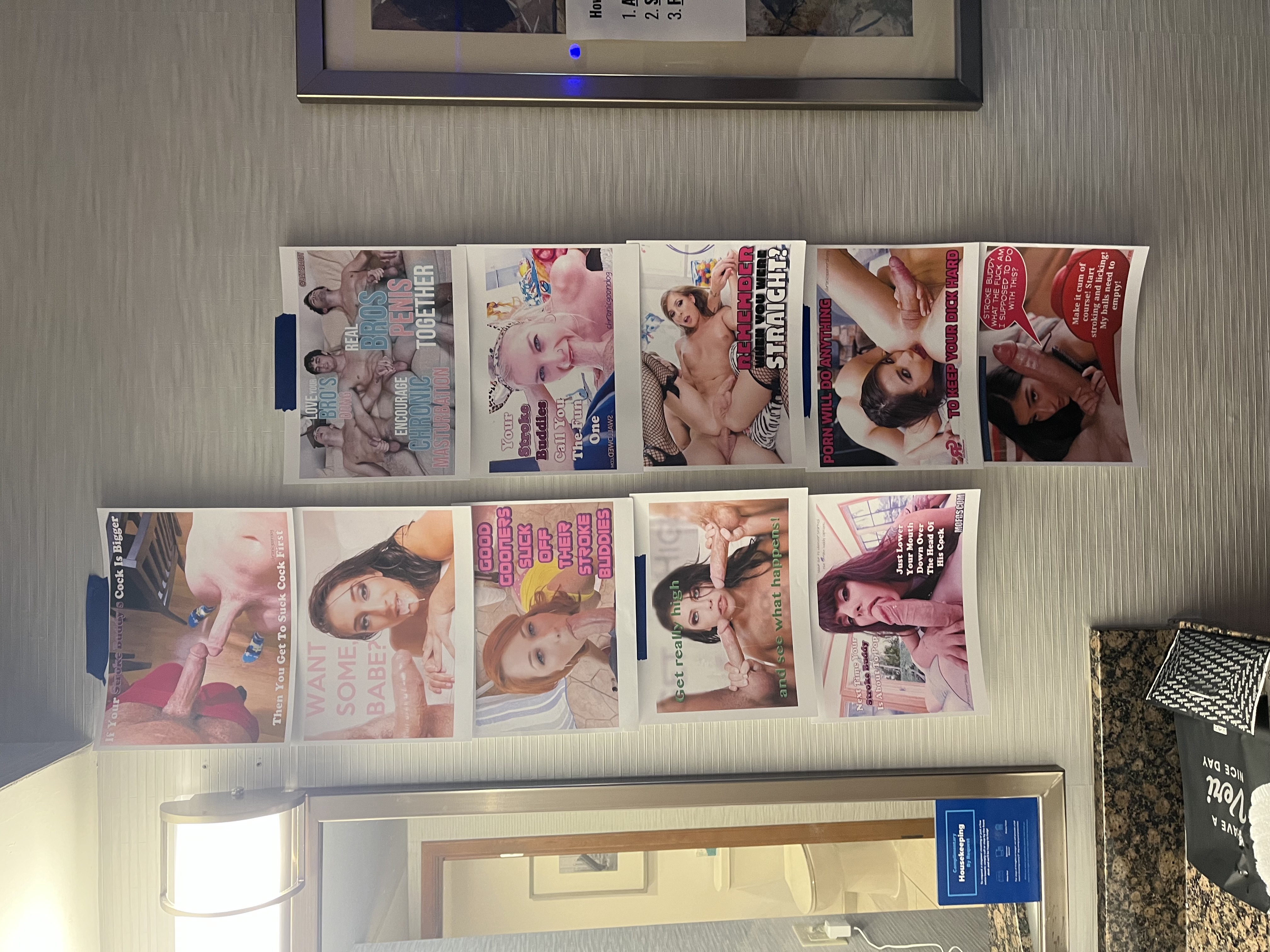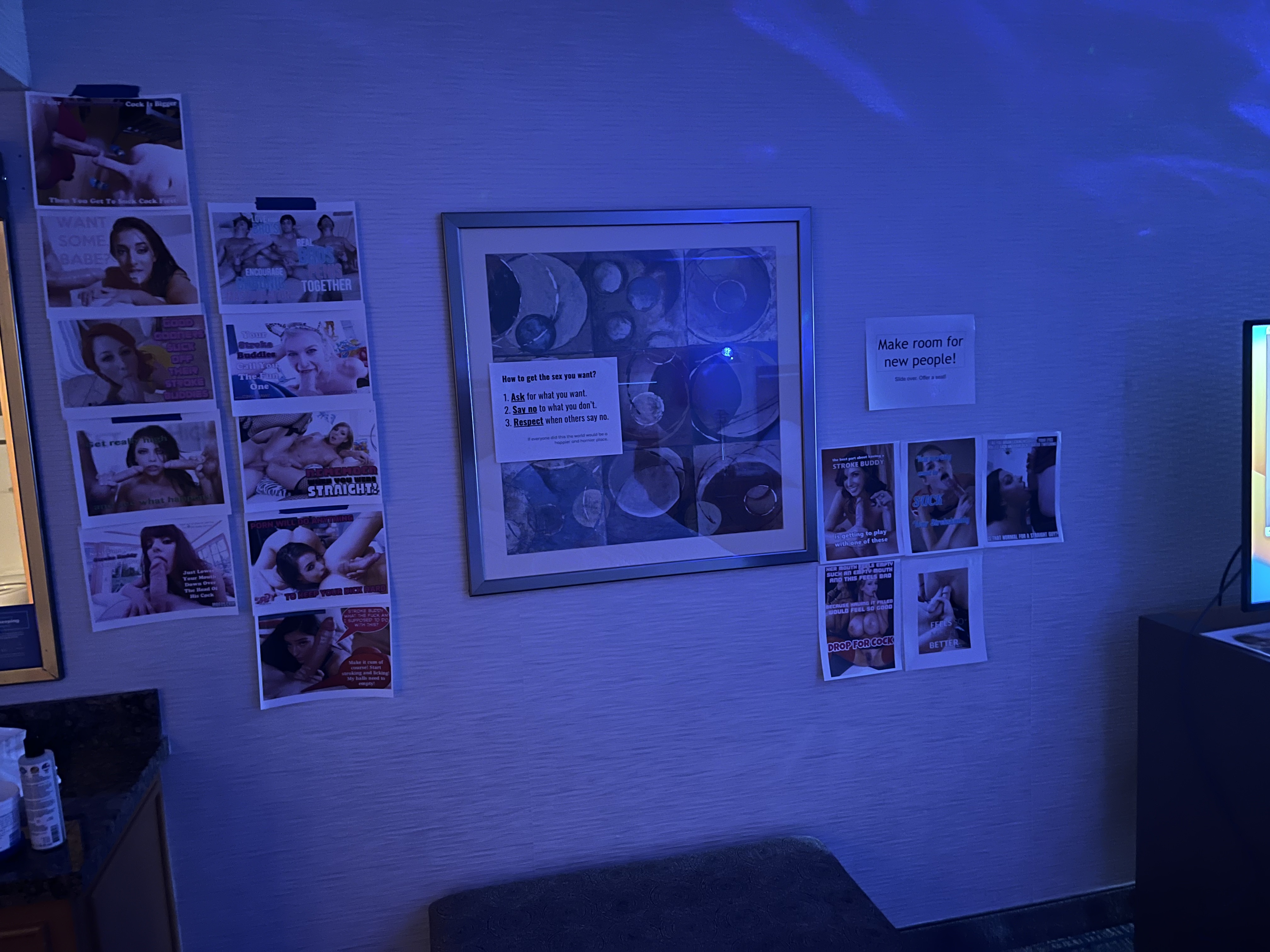 ---
Hotel
Remember that the party was across the street from the Exxxotica Chicago expo. Chaturbate was one of the big sponsors of the expo and many of their models were staying in the hotel. You could tell because they made their own "do not disturb" signs.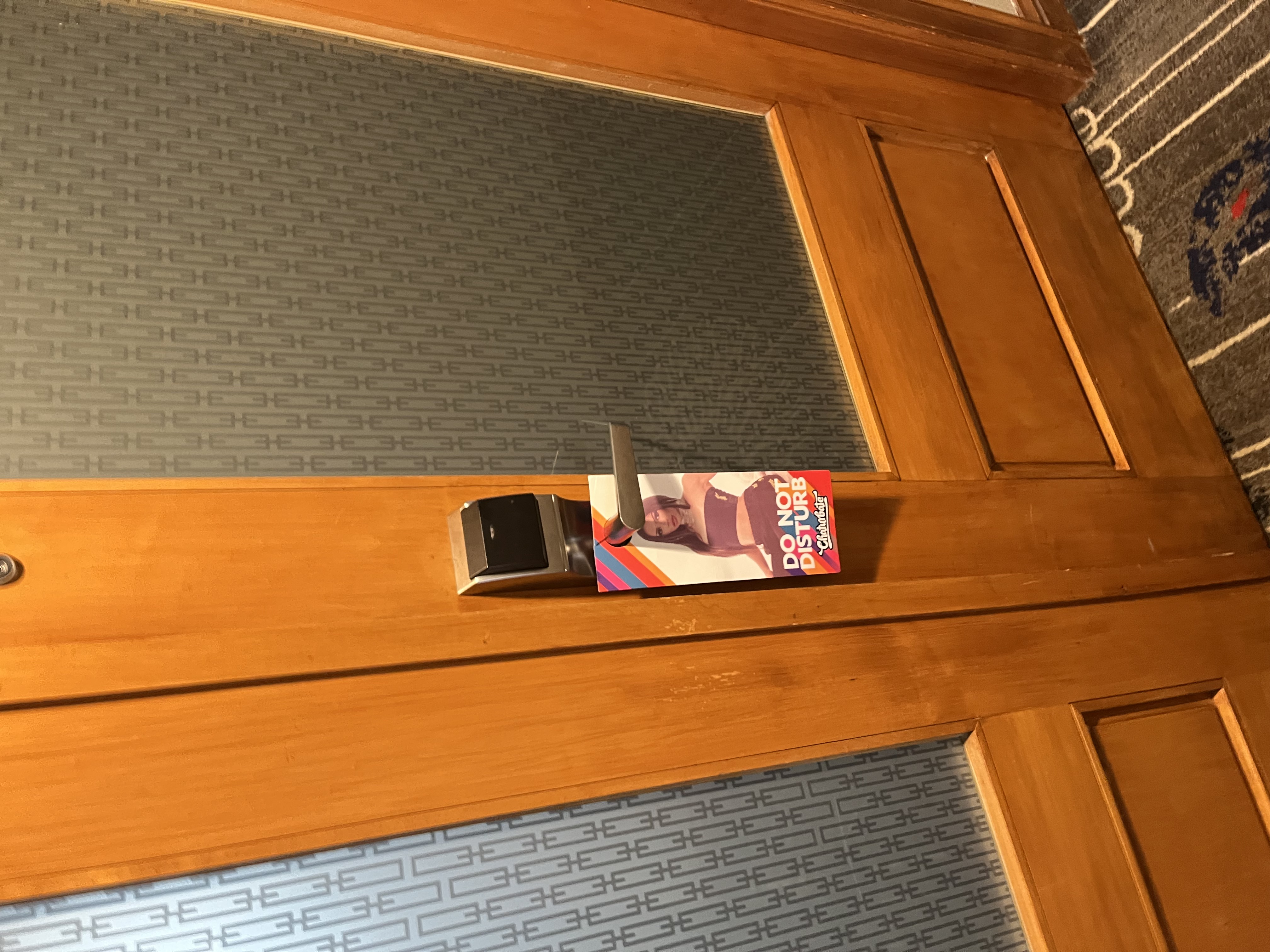 It was fun to see them and to realize, yes, they need to sleep in since they are up so late. However it seems like a horrible safety problem to be advertising where the models are.
---
Timeline
The room was set up and decorated hours early, so I put the word out that people could arrive any time.
morning:

A white guy showed up. We watched porn and blew each other. He came buckets then left. He returned later during the official party.

mid-day:

Another white guy visited. His kink was posing like I was a photographer. He posed all over the hotel suite, even the bathroom. He came on me and it was super hot!

4pm:

Party starts! It was just me until…

4:30pm:

2 white guys arrived at once. I welcomed them and the three of us started porning.

5pm:

New arrival. Blavk guy with a huge cock that has attended many previous parties in 3 states! What a rock star! We stroked each other and he blew me. He had another party to go to so he stepped out.

6pm:

Sissy (white, older, super cute) arrives, gets dressed, and is soon giving head. Good girl!

6:20pm:

A white guy that heard about the party from Reddit arrived.

7pm:

Another white guy arrives. There are now 7 guys in the room jerking to porn.

7pm:

Some people leave. There are now 4 people.

7:50pm:

2 people arrive, one black one white. 6 people in the room.

8:30pm:

the black guy leaves. A guy arrives soon after. He picks a red wristband. The first red wristband of the night.

10pm:

People start to leave. There are 3 people left including me.

10:15pm:

The guy from earlier returns for a quickie. There are 4 people in the room

11pm:

Everyone is gone. I was stoned and very satisfied.
Hot memories
Here are some of the hottest things that happened:
I tasted cum from three attendees
Watching many blowjobs
As one guy left he said he had "a great time… twice!"
The sissy played a lot. She seemed very happy as a result!
Some people stroked their buddy, other people were more shy. I hope everyone was able to find the kind of space they wanted.
Feedback Survey Results!
Yes, I really do a "customer satisfaction survey" after the party. I use people's comments to improve future parties.
I won't do my usual statistics but the people that attended reported:
"I felt safe/comfortable the entire time"
"I was nervous at first, but I felt safe/comfortable eventually"
"The host did things that made me feel safe/comfortable"
One person complained that there was too much trans/shemale/ts and hypno porn. This tells me the invitations should be more clear about what kind of porn will be shown.
People that didn't attend usually listed reasons like "Something came up!". One person requested the party stops the COVID vax policy. I don't plan on changing the COVID policy. Safety is my number one priority.
Local is the new normal!
You should host the next party! I hope to inspire other people to host their own parties. These kinds of parties should be commonplace.
In the future I'll be blogging advice about hosting your own parties. I'll also gladly promote other people's parties and even post their recaps.
I'm eager to coach and mentor others. You don't have to do all the fancy setup and decorating that I do. Meeting up with 2-3 gooners in a hotel room can be a great time! Book a room, advertise it on Discord, set up an easy way for people to RSVP. Everything else will take care of itself. I promise you. My parties started out the same way!
Thanks
This party wouldn't haven't happened without the help of others!
Thanks to the attendee that brought two laptops!
Thanks to everyone that completed the survey. Whether you attended or not, your answers really help make future parties even better!
Thanks to everyone that played, and to those who were shy this time.
And lastly, thanks to everyone that attended! These parties are all about you!
Hope to see you at a future party!
---