Party Recap: Jersey City, NJ, June 10, 2023
Published: Category: Recaps Estimated Reading Time: ~10 minutes 2023rd nj
Recap of the June 10, 2023 party in Jersey City, NJ.
Summary
The June 10, 2023 party in Jersey City was the most fun yet! Our 24th party! About 15 people attended, including 4 transpeople.
We changed the name of the event to "Gooner Gathering" and focused on gooner encouragement and hypno porn. This worked really well! I think having a specific focus attracted more people as they knew what to expect.
The follow-up survey seemed to indicate that everyone (who responded to the survey) had a good time. The people that took the initiative to talk/play with others had the best time of all. (Let that be a lesson: Saying "hi" to the person next to you leads to good things!).
The party had a number of different activities going on at the same time, more so than previous events. The first party (2018) was just a bunch of guys all watching the same screen. Fast forward to this party and there were 3 places to watch porn, a refreshments area, and so on.
As I walked around the hotel suite I imagined I was walking through a a mini gooner amusement park where every few feet there was a different activity. Ok, that's an exaggeration since it was just a 2-room hotel suite but… I did certainly get that vibe when the party was at its peak.
What were all these activities?
The outer room had 4 activities: registration, food/water, a couch to sit on and watch porn with others (complete with a Chromebook so people could pick their own videos), and a chair set up as the "hypno chair". More on that later.
The inner room was the "goon den" dedicated to gooning: three video screens run by the "porn DJ" with plenty of places to sit and goon (beds, chairs, floor space, etc). When the party was really popping, all these areas were full of people. It was pretty awesome.
---
Stats
Our 24rd party!
15 attendees (approximate… I lost count at one point)
4.1 stars out of 5 (9 attendees completed the after-party survey)
Predicting the number of attendees is important to planning food and other logistics. This time there were 106 RSVPs but only 15 people attended. While an 85 percent no-show rate sounds bad, readers of these recaps will know this is pretty typical. I'm starting to see a trend: The earlier someone RSVPs the less likely that person will show up. Since I opened RSVPs so early the number of no-shows is expected to be high.
As an experiment, two days before the party (June 8) I sent email asking people to confirm if they are attending. 21 people replied. 21 people is a better estimate than 106.
---
The Setup
The hotel suite had two rooms: You arrive into the "outer room" (more chill) and then go into the "inner room" (goon den).
In addition to my usual "porn DJ" setup, someone brought their own laptop loaded with porn videos. We plugged it into one of the main screens. His taste in porn is different than what I was playing, which added to the variety. Variety is the spice of life! Thank you thank you thank you for bringing your laptop!
The Welcome Area
The wristband pickup table:
The colors make it easy to give/withhold consent: Red means "No, don't approach me", yellow means "maybe?" and green means "yes! Please ask!". If you didn't notice, it's like a traffic-light. Oh, there are two optional colors: Pink for "I suck" and blue for "Blow me".
Why the wristbands? Safety and comfort. You can advertise your desires easily this way. I yellow was the most commonly worn wristband this time. (Me? I wore a green and pink and blue!)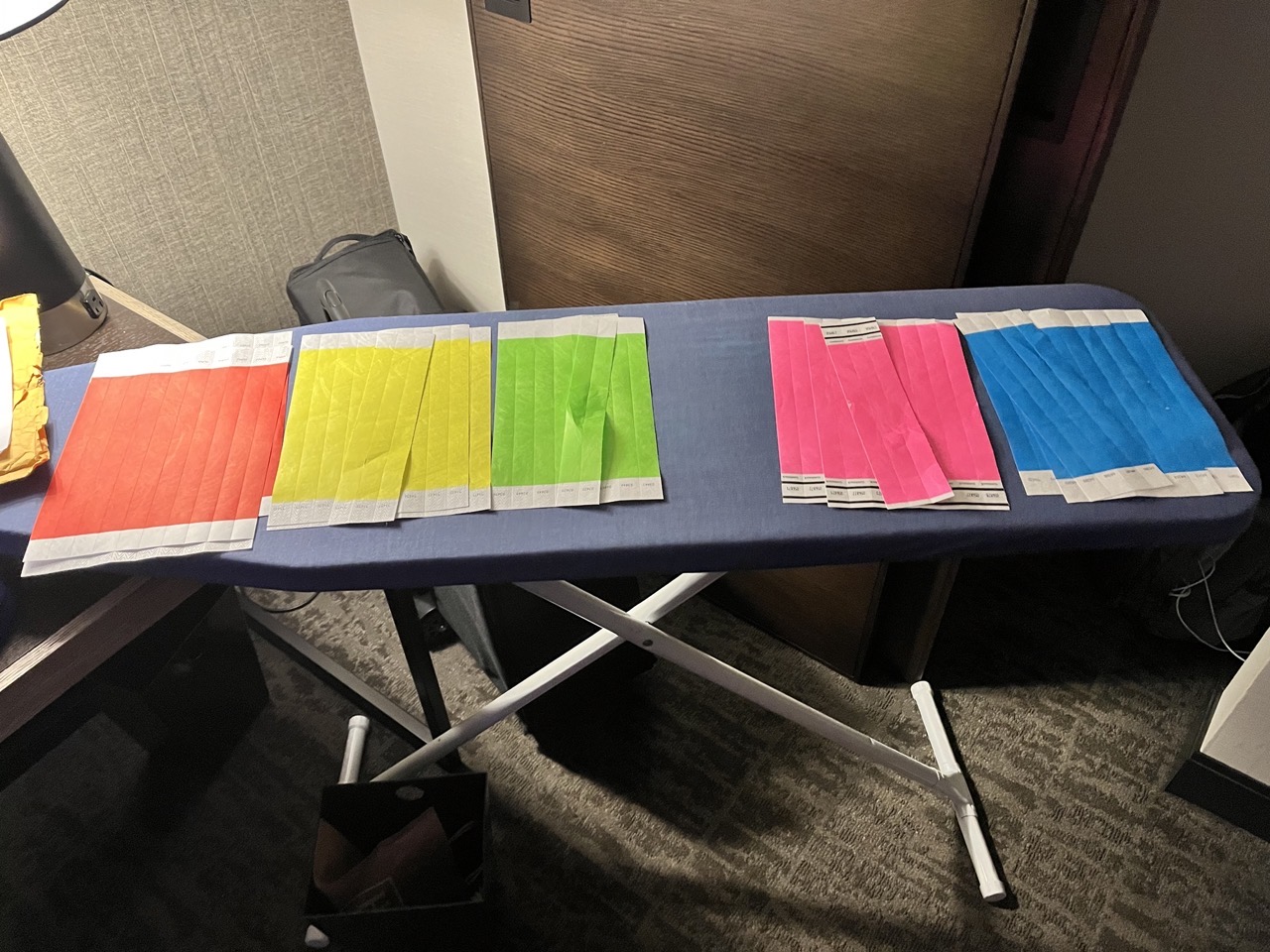 The Self-Service Couch
This is the "self-service" couch. Note the laptop for people to pick their own porn. For most of the party there were 2-3 people on the couch, taking turns picking videos: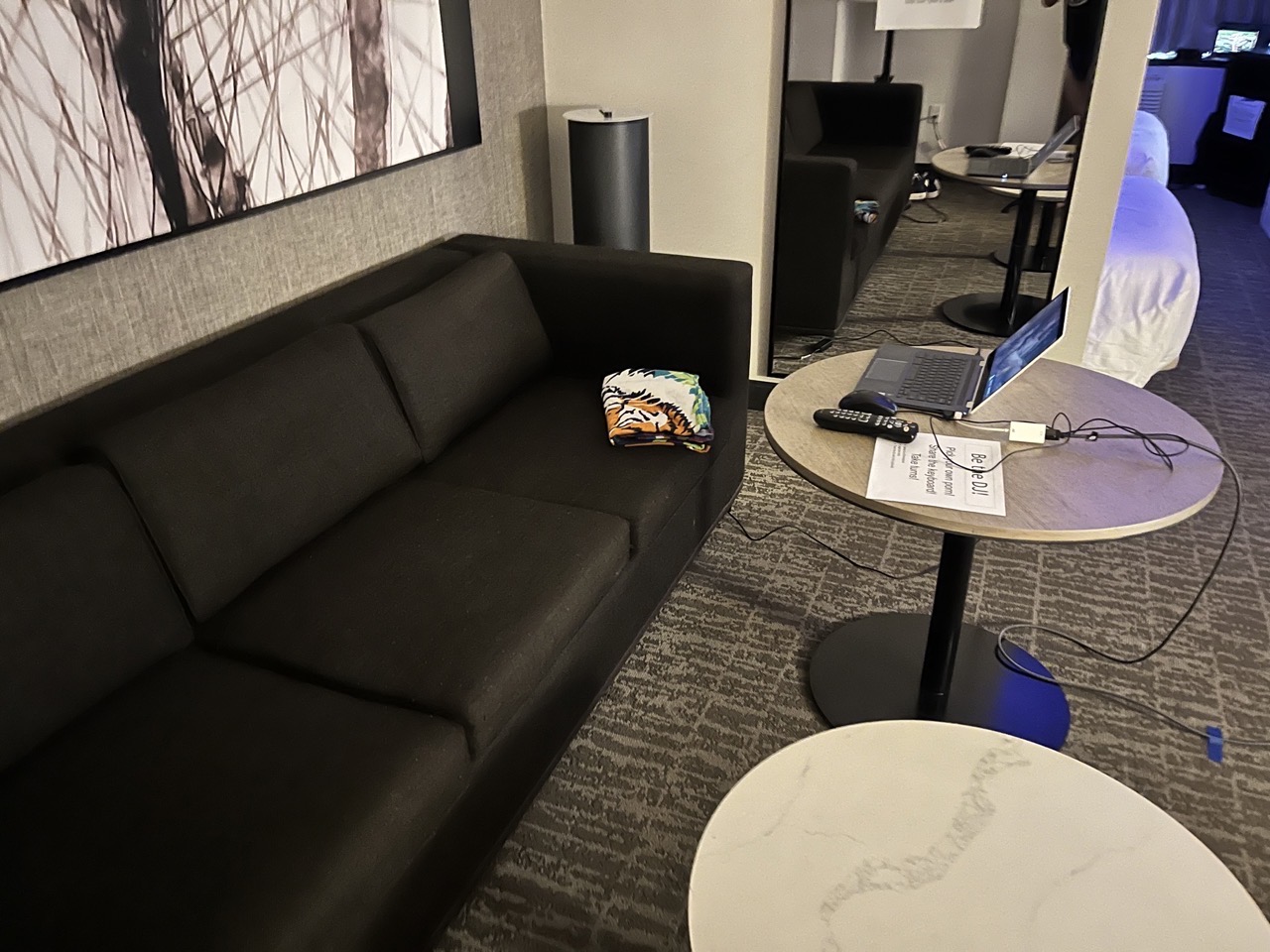 This hotel room comes with a huge video screen in each room. Here you can see the water/refreshments on the left, the "self-service" screen in the middle, and the registration table on the right: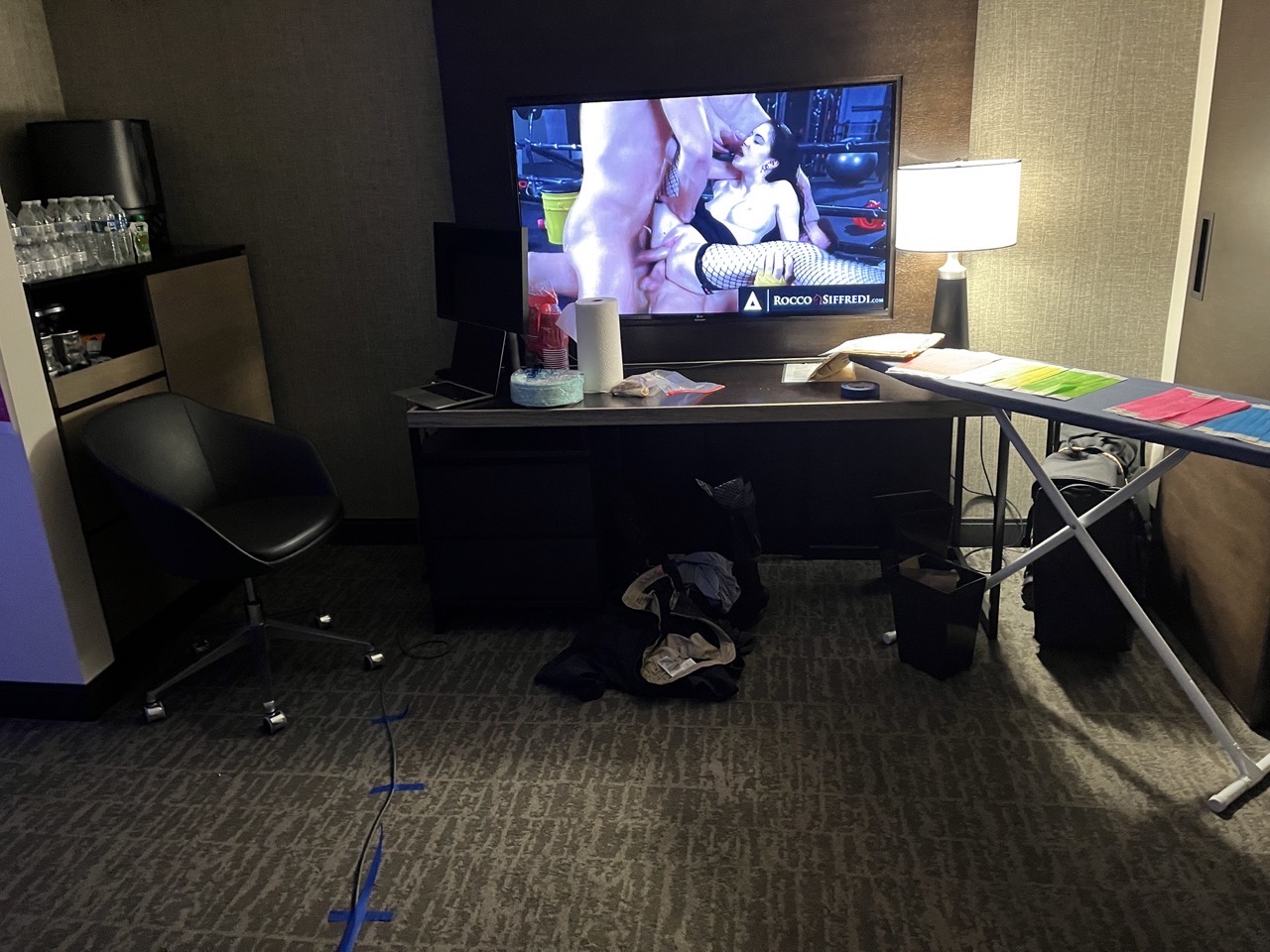 The Goon Den
Welcome to the goon den! This is the "inner room" where there are 3 screens and plenty of sitting space (2 beds, a couch, a chair, and a lot of floor space).
Video screens: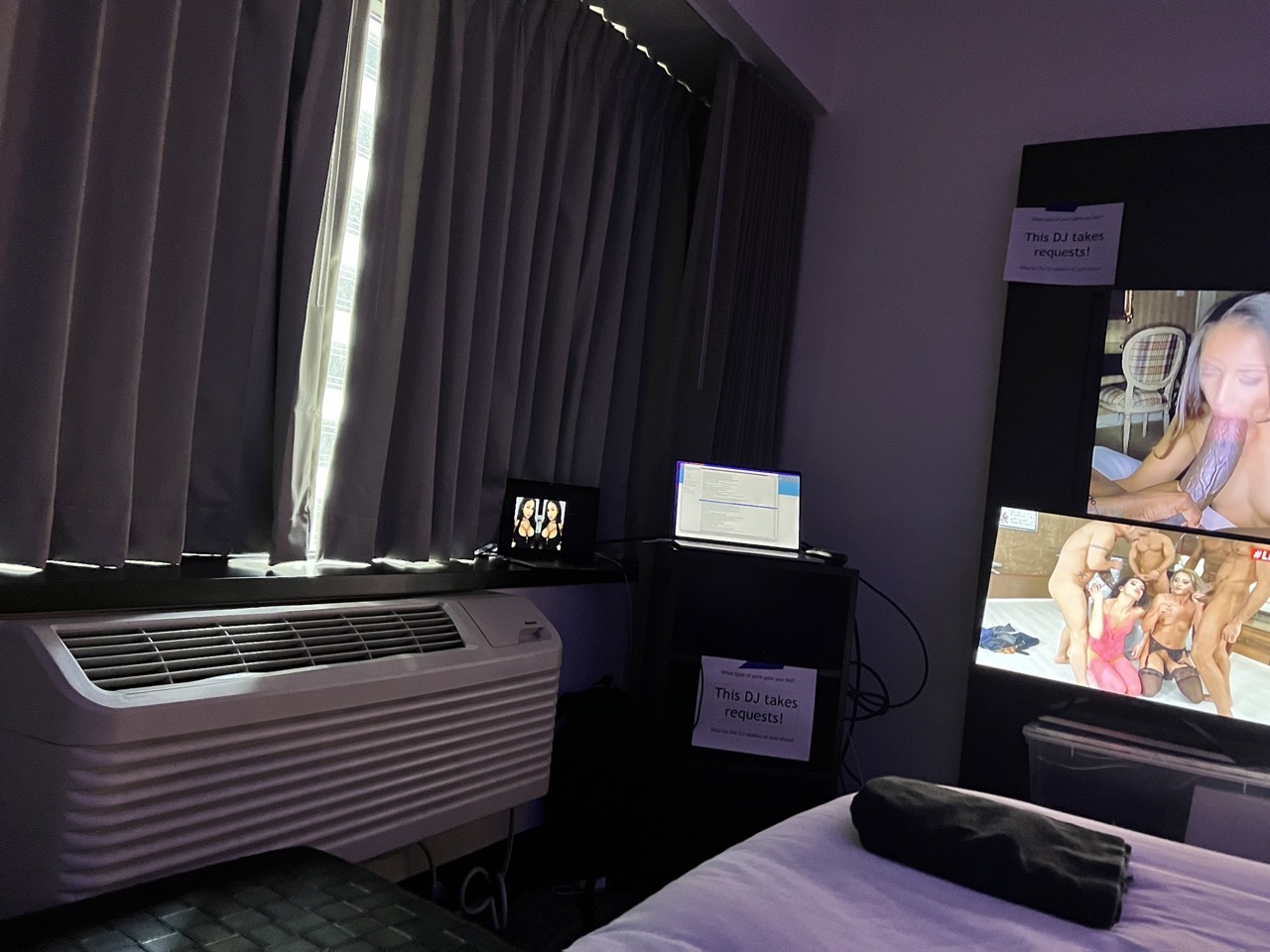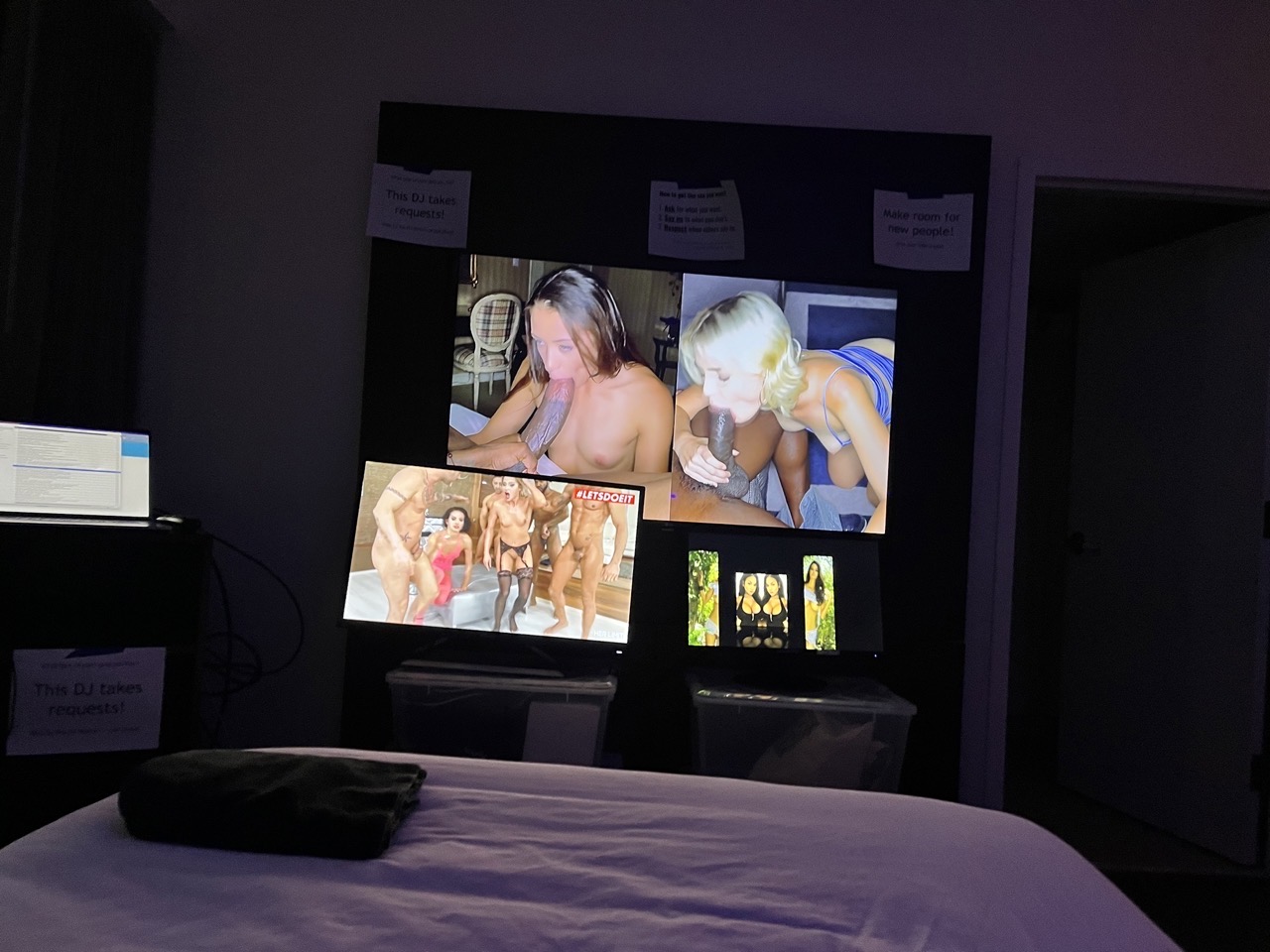 Plenty of room to sit: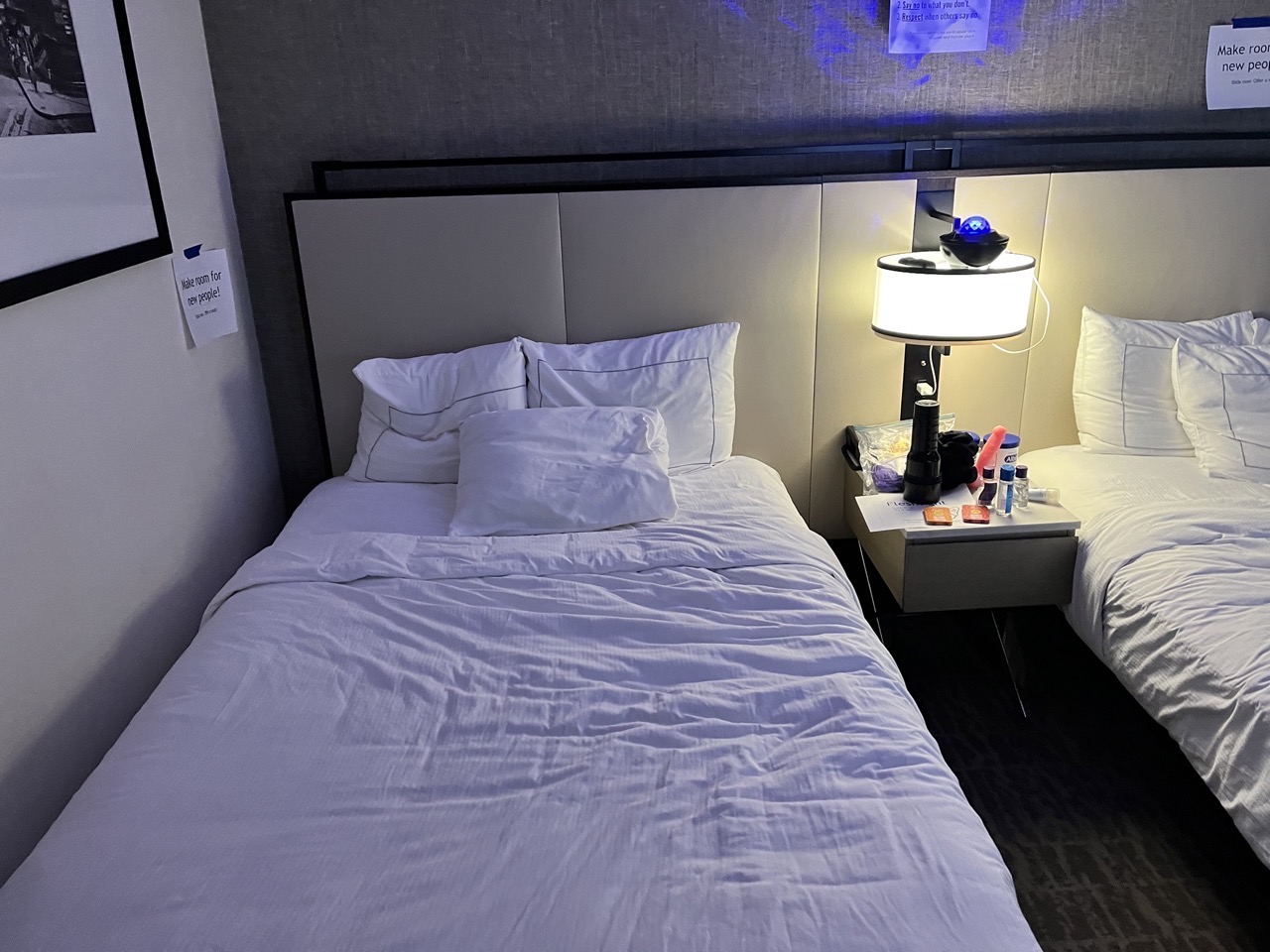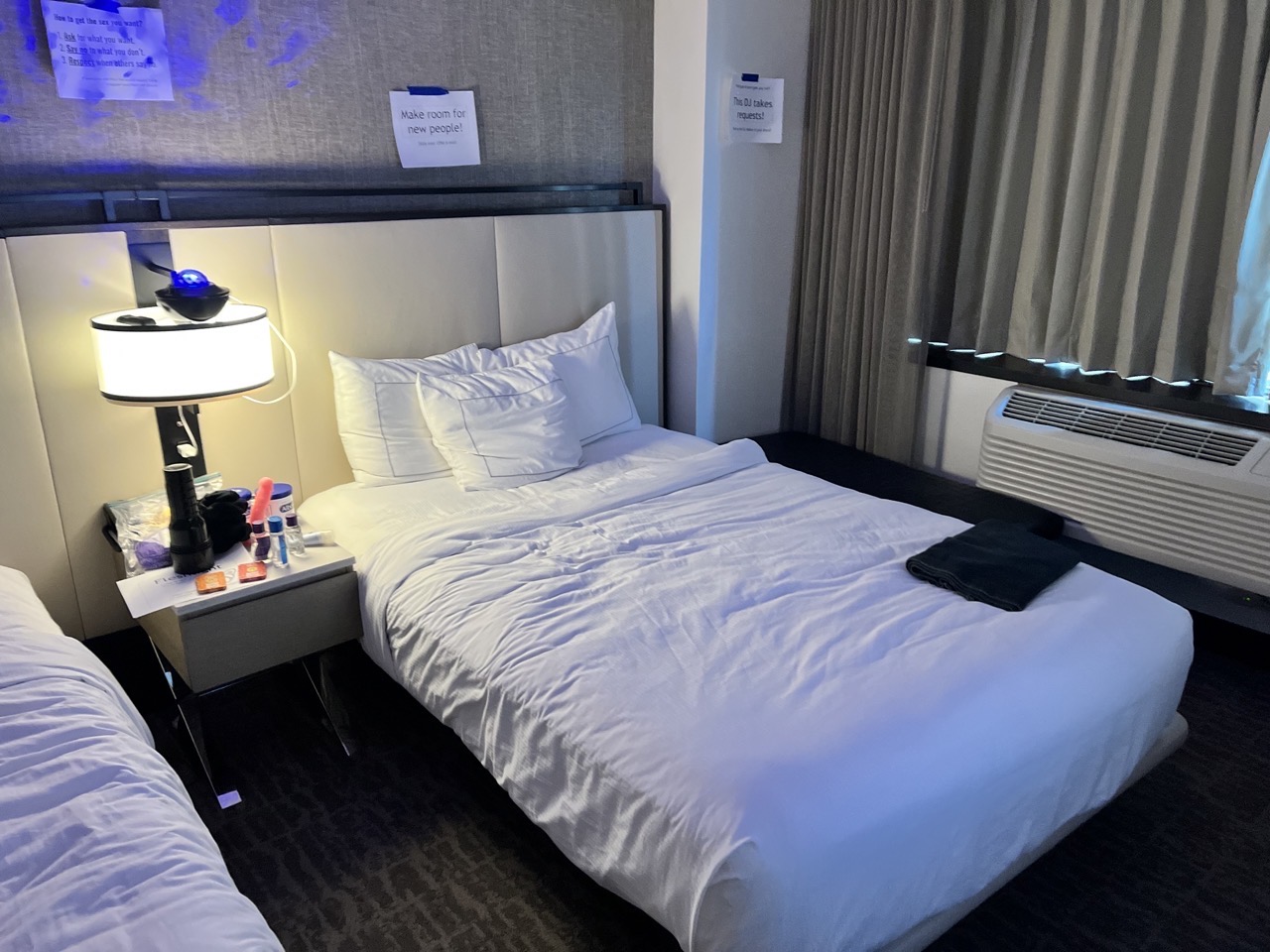 The lube and toy table! Notice the fleshlight and a wide variety of lubricants: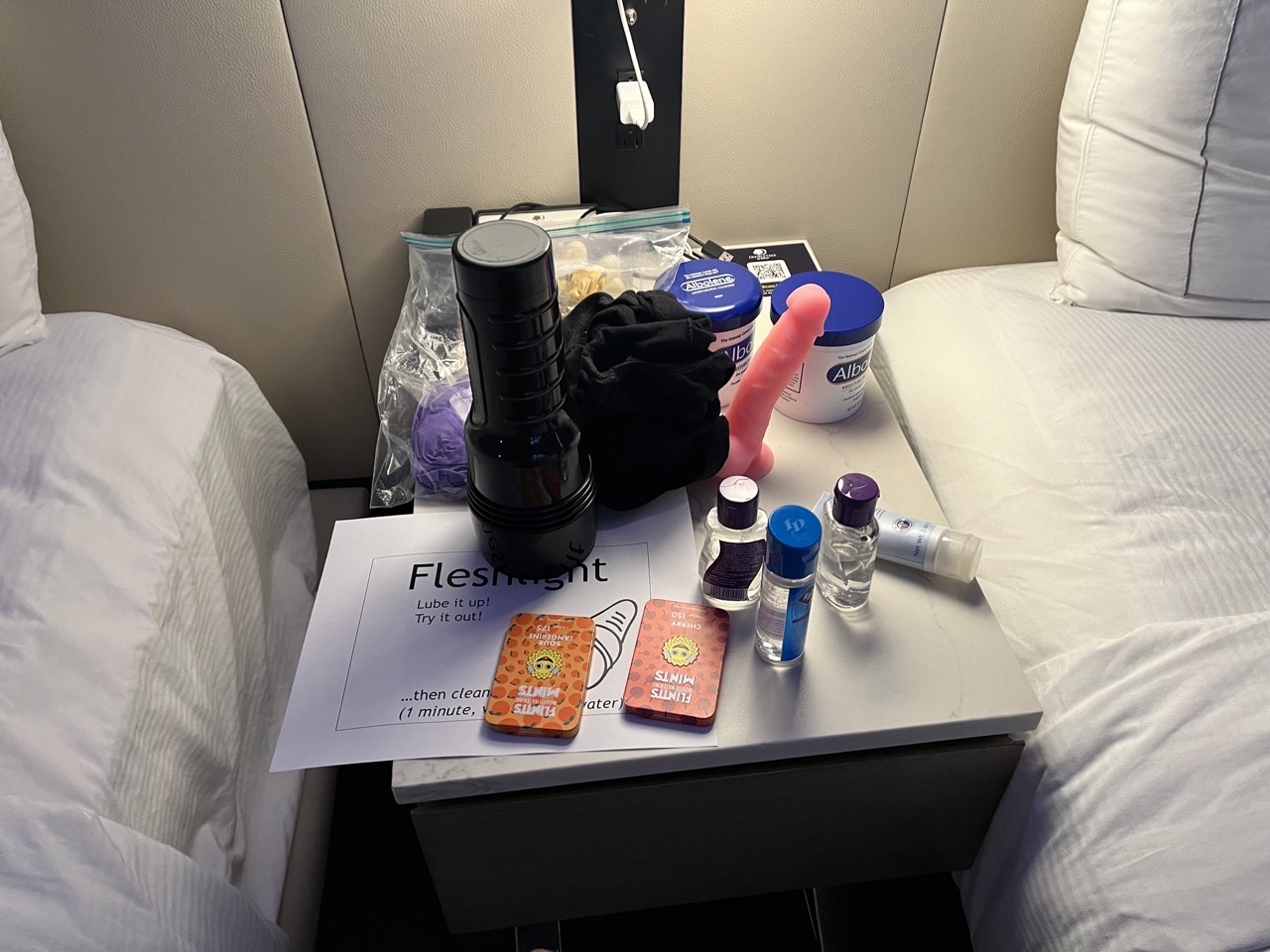 The DJ station: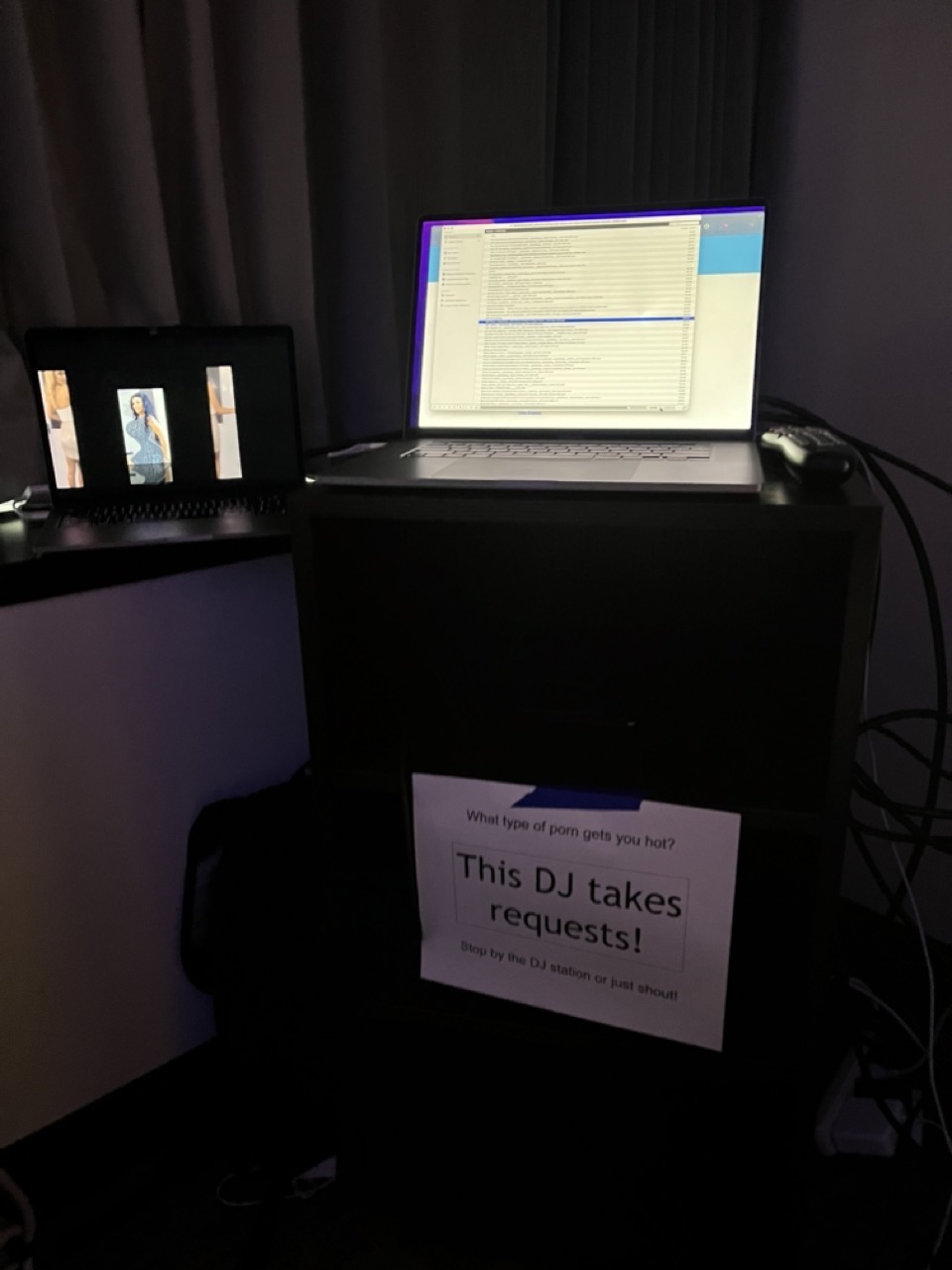 All packed up!
Someone asked me recently "How do you bring all that equipment into the hotel?"
Here's the answer. The black case on the left hosts 2 video screens. The LG box holds the 3rd screen. The clear boxes hold all the other party supplies (mostly power cords):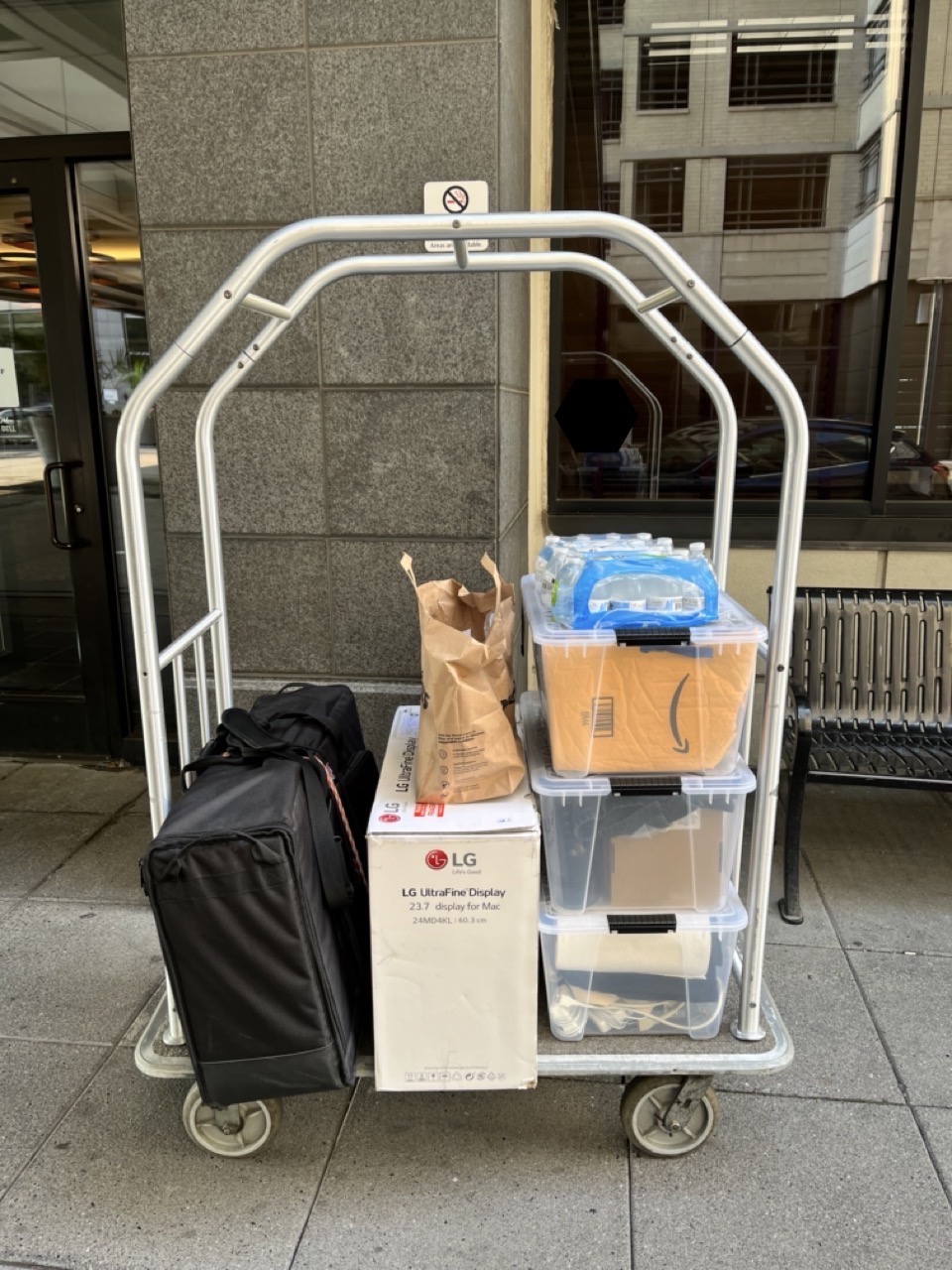 ---
Lack of photos
I forgot to take more photos!
For privacy reasons, no photography or video recording is permitted during the party. I try to remember to take pictures before and after people arrive but this time I was in a bit of a rush.
Wow, I even forgot to take pics of the "Goon Chair". Next time for sure!
Would someone like to volunteer to take photos? You could show up early or stay late.
---
Timeline
The party was supposed to start at 4pm but I wasn't able to get into the room until 3pm. It takes about 90 minutes to set up the party (longer if the room layout is different). I had to rush to set things up.
Luckily 2 people arrived early and helped set up. One had never been to a party before! He asked to help set up as it would make him more comfortable (everyone is nervous their first time!). That was excellent!
By 4:20pm everything was set up, porn was on all the screens, 3 people were in the room all wanking.
I counted how many people were in the room at the top of each hour:
5pm: 7 people
6pm: 6 people
7pm: 11 people (1 woman)
8pm: ~12 people (1 woman, 2 sissies)
9pm: ~12 people (1 woman, 3 sissies)
10pm: 8 people (3 sissies)
11:15pm: last person left
---
Hot memories
Here are some of the hottest things that happened:
A lot of buddy-stroking, and many blowjobs (thank you, pink wristbands!)
One guy was on his knees alternating between blowing two guys. One of the guys asked, "do you like it rough?" and the guy's face lit up like "finally!"
A transman got his cock sucked; he really face-fucked the sucker
I counted at least 8 cumshots… but there were a lot more I didn't see.
There was a hot scene where a guy was laying down stroking. Another guy was kneeling so that he was over him. The one on top came buckets, most of it landed on the cock of the guy laying down, who then started jerking off using the cum as lube. Soon after he came, adding a huge load to the mess. It was super hot!
Some people stroked their buddy, other people were more shy. I hope everyone was able to find the kind of space they wanted.
---
The Goon Chair
Sadly the goon chair idea didn't work out as planned.
The original idea was to set up what I'll call "the gooner test". The goal was to have a guy watch "straight to gay" encouragement videos and see if he could go 10 minutes without "being turned".
We would set up a chair in front of a video screen that showed nothing but "straight to gay encouragement" hypno videos. The person would sit so close they couldn't see anything else. Other guys would stand with their cocks out, one to left and one to the right of the chair.
Could someone withstand 10 minutes of this without grabbing one of those cocks and sucking it?
THE BAD NEWS:
Well, it didn't work out as planned.
We did find a volunteer for the chair, and 2 to stand to his left and right.
Sadly the heights were all wrong. The cocks didn't line up with where the guy's hands or heads. Even if he "failed", the position wasn't going to work.
THE GOOD NEWS:
The setup was too good to go to waste. Many some people just used the chair to watch solo. One person must have been there for an hour just gooning as the playlist ran through his brain. It was pretty hot to watch!
NEXT TIME:
We're going to try it again next time. I think we can make it work with a little more planning.
---
Feedback Survey Results!
Yes, I really do a "customer satisfaction survey" after the party. I use people's comments to improve future parties.
6 people responded to the survey out of 15 attendees.
What did you LIKE about the party?
"All the naked guys jerking to great porn"
"Very friendly and accommodating, lots of hot porn, relaxed atmosphere"
"I enjoyed the fact that you really helped make everyone feel comfortable, even if it was their first time going to one of these parties"
"Separate rooms for taking breaks really helped my longevity and comfortability"
"Goon selection, variety of dudes, respect of the gooners to one another."
"Everyone was respectful and the hosts were super accommodating! Pizza was great too. Really appreciated that."
"Porn, hard cocks, communication"
"The free water"
What did you NOT LIKE about the party?
"I thought it would be more social but I know how I'll approach the next party be a little more forward"
"I would say seating, even though there was a lot of seating, I saw a lot of people that basically just stood around and I don't know if that was out of comfort or anything else but the standing sort of caused a little bit of congestion in certain areas"
"The set up - not actually two rooms"
"A few people said "Need more room" or similar."
"The part I was at was a bit quiet and tame. But I had to cum and go quickly, so that's on me"
Safety and privacy
(5 responses) I felt safe/comfortable the entire time
(3 responses) I was nervous at first, but I felt safe/comfortable soon after I arrived
(3 responses) I was nervous at first, but I felt safe/comfortable eventually
(2 responses) The host did things that made me feel safe/comfortable
How was the porn?
(4 responses) I felt over-stimulated (in a good way)
(4 responses) Too much trans/shemale/ts
(1 response) I enjoyed the room where I could watch my own porn too !
Other free-form comments:

"Not enough hypno, Too tame"
"Too straight"
"Great selection. Loved it."
How many times did you cum?
(4 responses) Just right!
(4 responses) Not enough!
Did you interact with other attendees? (check ALL that apply)
(8 responses) Talked
(6 responses) Hand stuff
(5 responses) Wish I had done more!
(4 responses) Oral
(2 responses) Exchanged contact info
(1 response) Frot
Any other comments about the PORN?
"Really didn't see many I had seen before !!"
"Loved the PMVs could maybe have used a little more just full length hardcore scenes playing in the big main room, but really had a great time!!!"
"I would say the porn is as ok but at a certain point it felt a little over saturated bc a lot of the content felt the same (despite them being of different varieties)"
"Too much tranny"
"More hypno with techno"
Anything else you'd like to TELL THE HOST?
"You're so nice and accommodating! Made me feel safe and comfortable immediately!!"
"I really want to thank you for the party, I had a really good time at the party and this helped me figure out that I don't think I'm suited for group play, but this was not a bad experience at all"
"Would love a popper pmv dedicated time !"
"Try to do an Airbnb next time"
"Host more in NJ - preferably southern jersey"
Where did you hear about the party?
(4 responses) Discord
(2 responses) Reddit
(1 response) FetLife
Where ya from?
(2 responses) NJ: Central or South
(1 response) NJ: Jersey City or near-by
(3 responses) New York: NYC (5 boroughs)
Age
(2 responses) 20s
(4 responses) 30s
(1 response) 50s
---
Thanks
This party wouldn't haven't happened without the help of others!
Thanks to the attendee that brought a laptop.
Thanks to everyone that completed the survey. Whether you attended or not, your answers really help make future parties even better!
Thanks to everyone that played, and to those who were shy this time.
And lastly, thanks to everyone that attended! These parties are all about you!
Hope to see you at a future party!
---