Party Recap: Jersey City, NJ, Aug 19, 2023
Published: Category: Recaps Estimated Reading Time: ~13 minutes 2023rd nj
Recap of the Aug 10, 2023 party in Jersey City, NJ.
Summary
35 people attended the August 19, 2023 "Gooner Gathering" in Jersey City, NJ. It was special for two reasons: (1) It was the first time the party included an organized bukakke. 21 loads splattered on lovely Natalie's face! (2) It was our 25th party! Holy cow! I wouldn't believe it myself if I hadn't been keeping track !
---
Stats
Our 25rd party!
35 attendees (about 100 RSVPs)
4.7 out of 5 stars (11 attendees completed the post-party survey. The lowest score was a 4!)
---
The Setup
The hotel suite had two rooms: You arrive into the "outer room" (more chill) and then go into the "inner room" (the goon den).
The "wall of porn" had 3 screens. Typically the two smaller screens were playing my porn playlist (left) and a stream from Discord (right), with the big screen playing a playlist brought by Natalie.
The Welcome Area
When you arrive you are in the welcome area. The first thing we do is get you set up with your wristband. We also review the party rules and answer any questions.
The wristband colors make it easy to give/withhold consent: Red means "No, don't approach me", yellow means "maybe?" and green means "yes! Please ask!". (It's like a traffic-light). Oh, there are two optional colors: Pink for "I suck" and blue for "Blow me".
Why the wristbands? Safety and comfort. You can advertise your desires easily this way. I yellow was the most commonly worn wristband this time.
Most people requested yellow or green wristbands. About 10% percent requested red.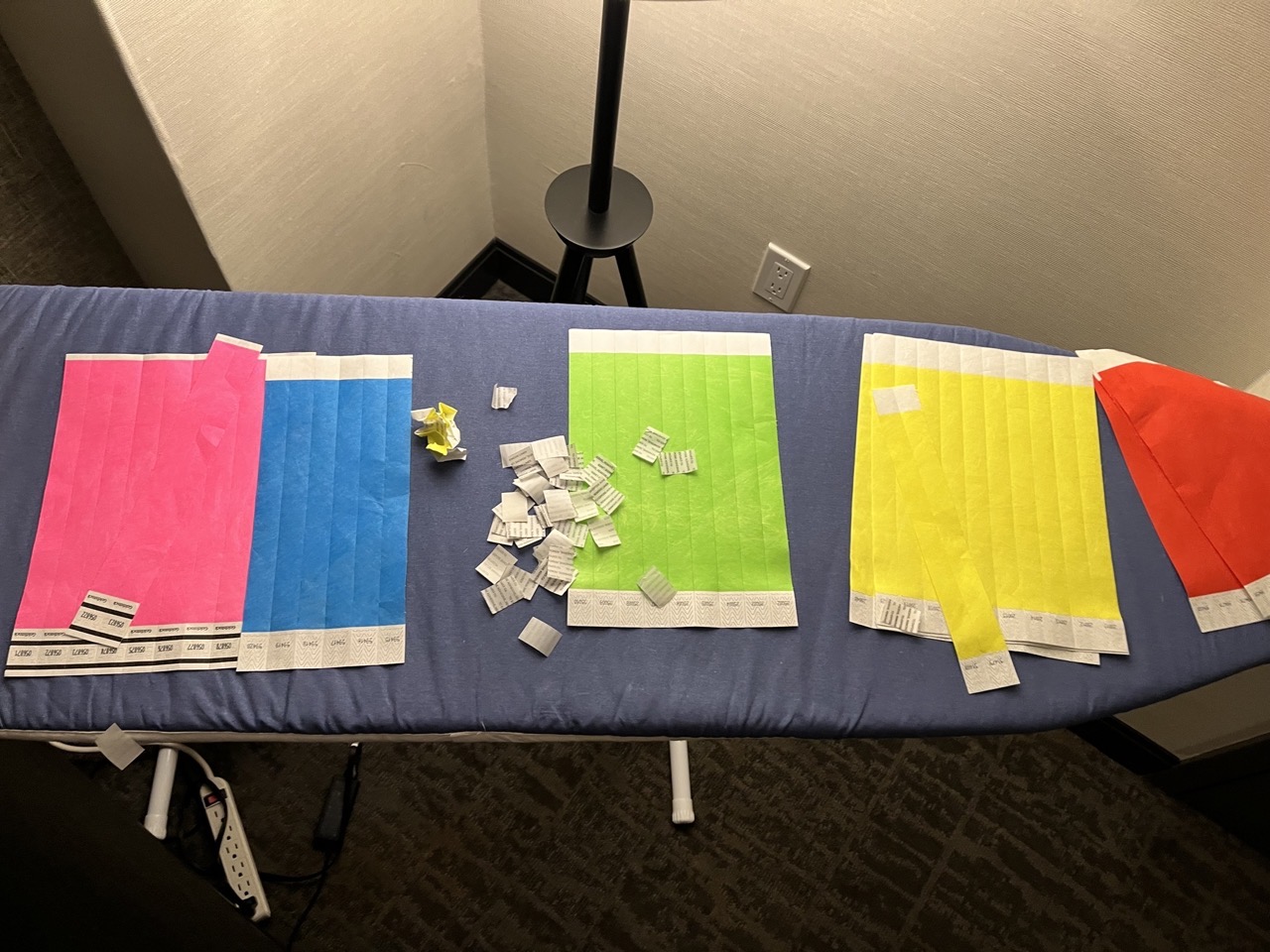 Chill space and "self-service" area
The outer room is the chill space with snacks and water.
The "self-service porn" area is here too. That's where you'll find a big couch plus a laptop attendees can use to pick their own porn. It plays on the big screen on the opposite wall. (If you've read Josty's writeup , this is the couch he mentions.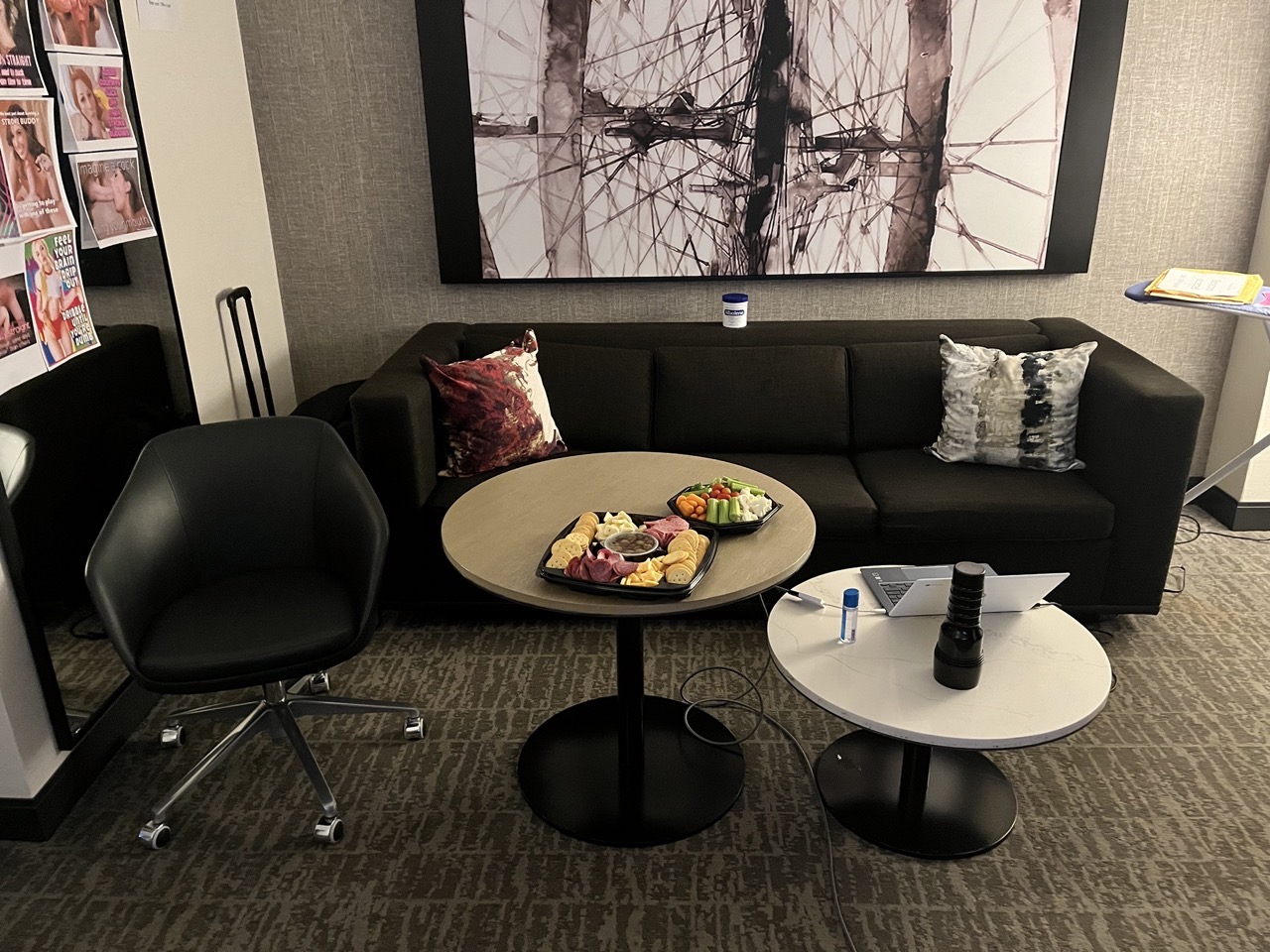 On the other wall is the big TV. People stashed their jackets, clothes, etc. on the floor under this desk. In this picture it is empty but it filled up over time.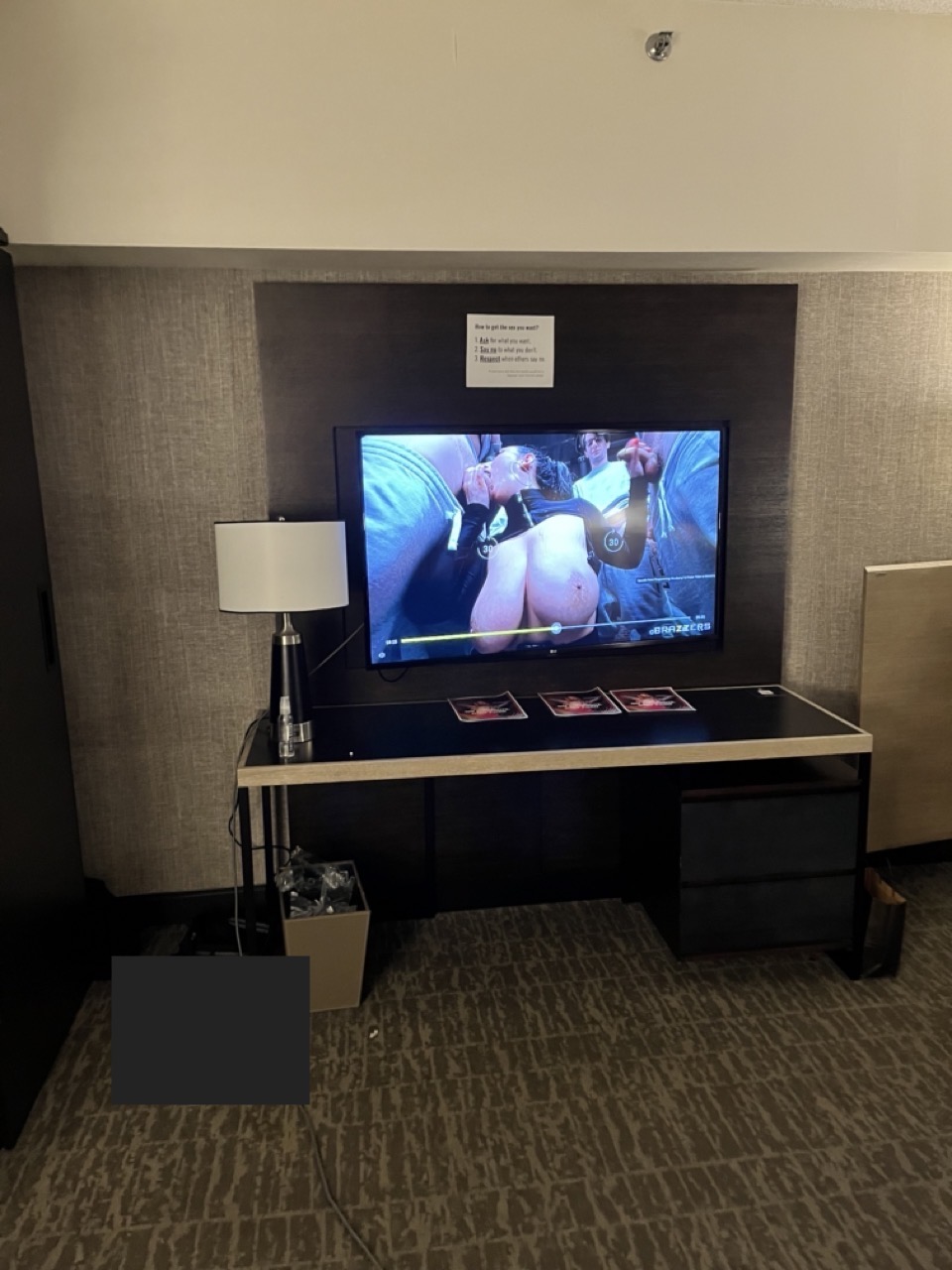 ---
Chill space decorations
Signs are posted around the room to remind people of the rules.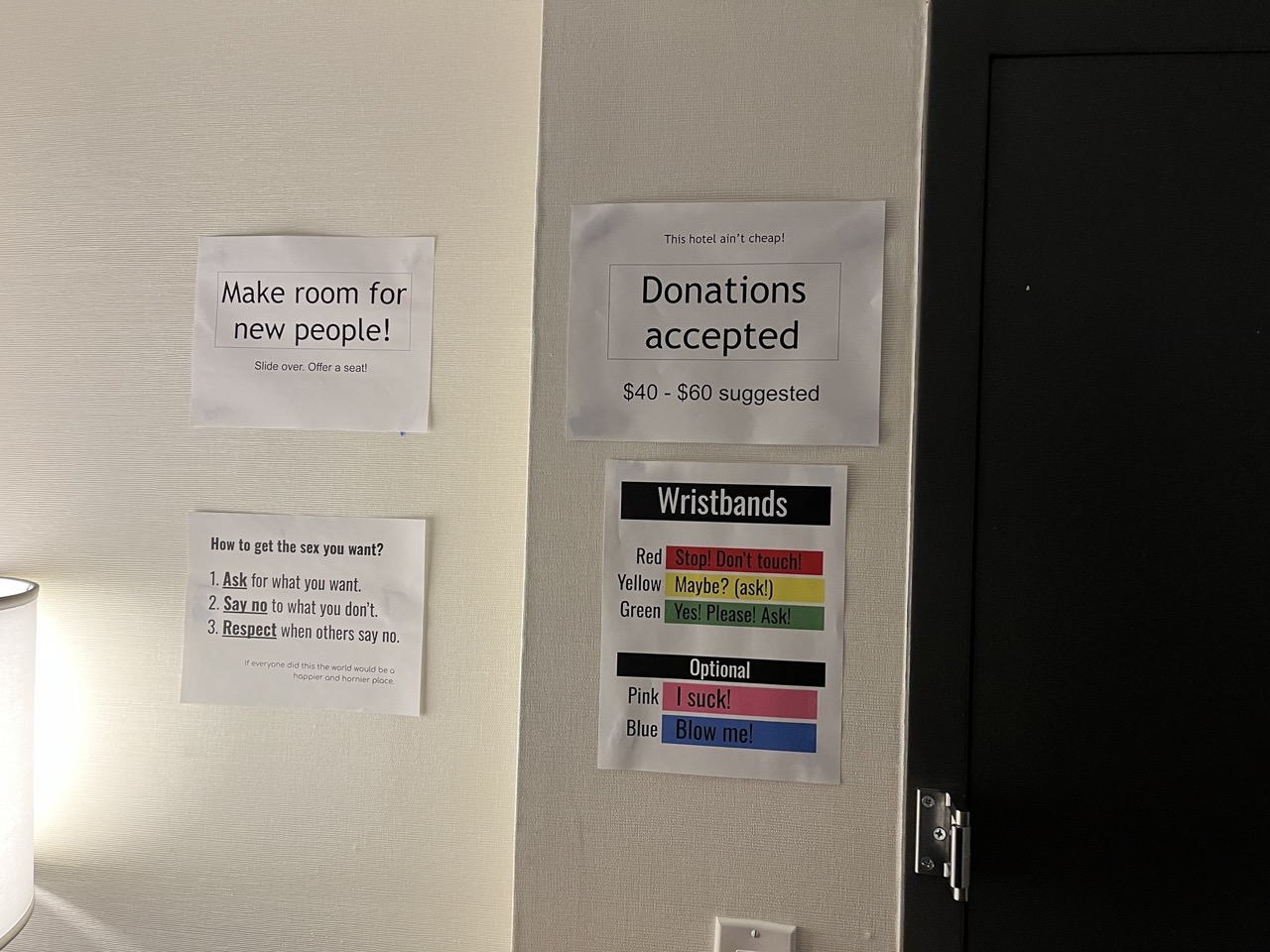 One of my favorite recent additions to the party is the "encouragement posters".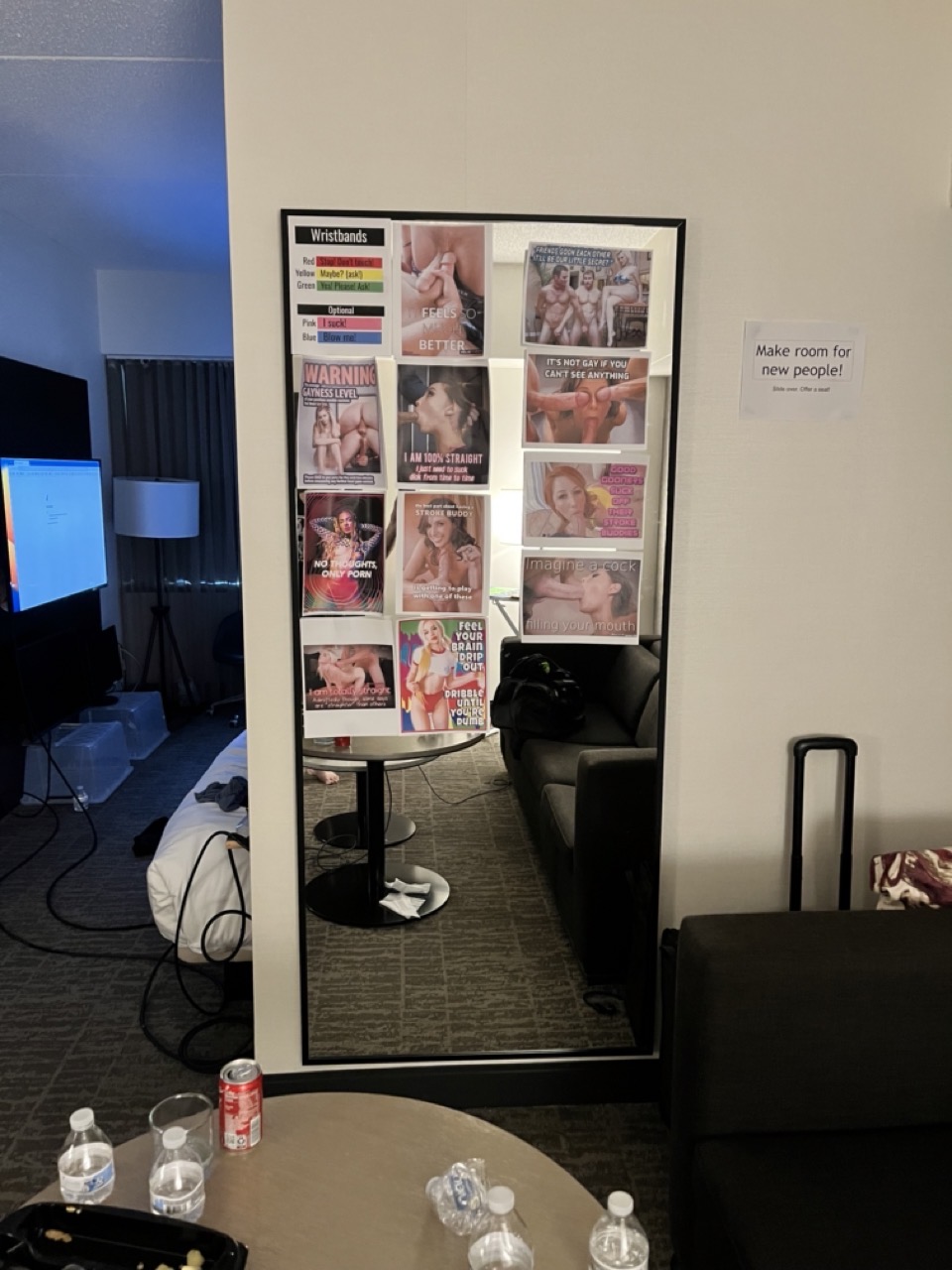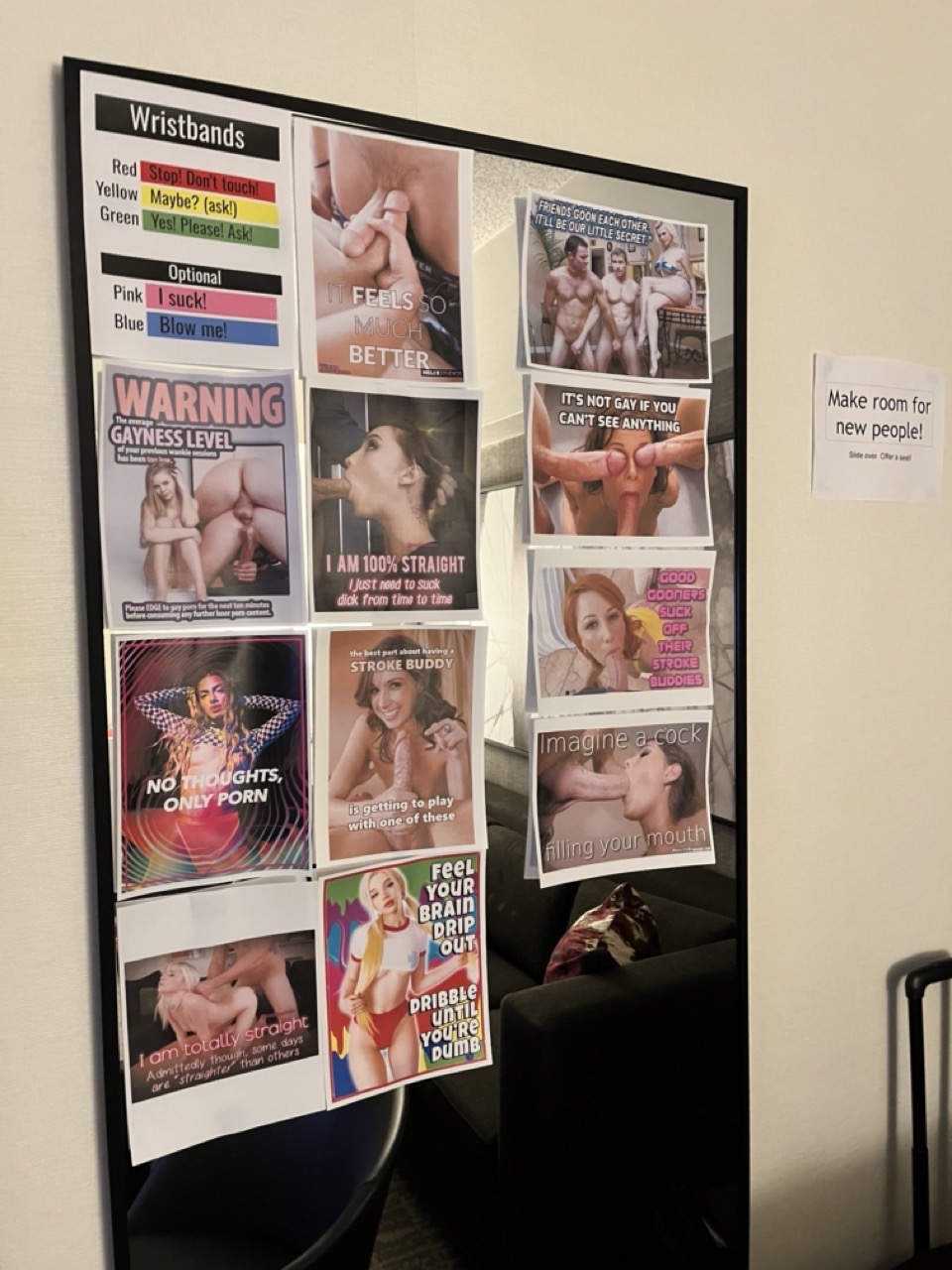 (If you can't read the posters, click here for a close-up )
---
The Goon Den
The "inner room" is the Goon Den. There are 2 beds, a couch, and chairs. Plenty of room!
Here's a picture of the left bed. Between the beds is a stash of lube and toys for people to share.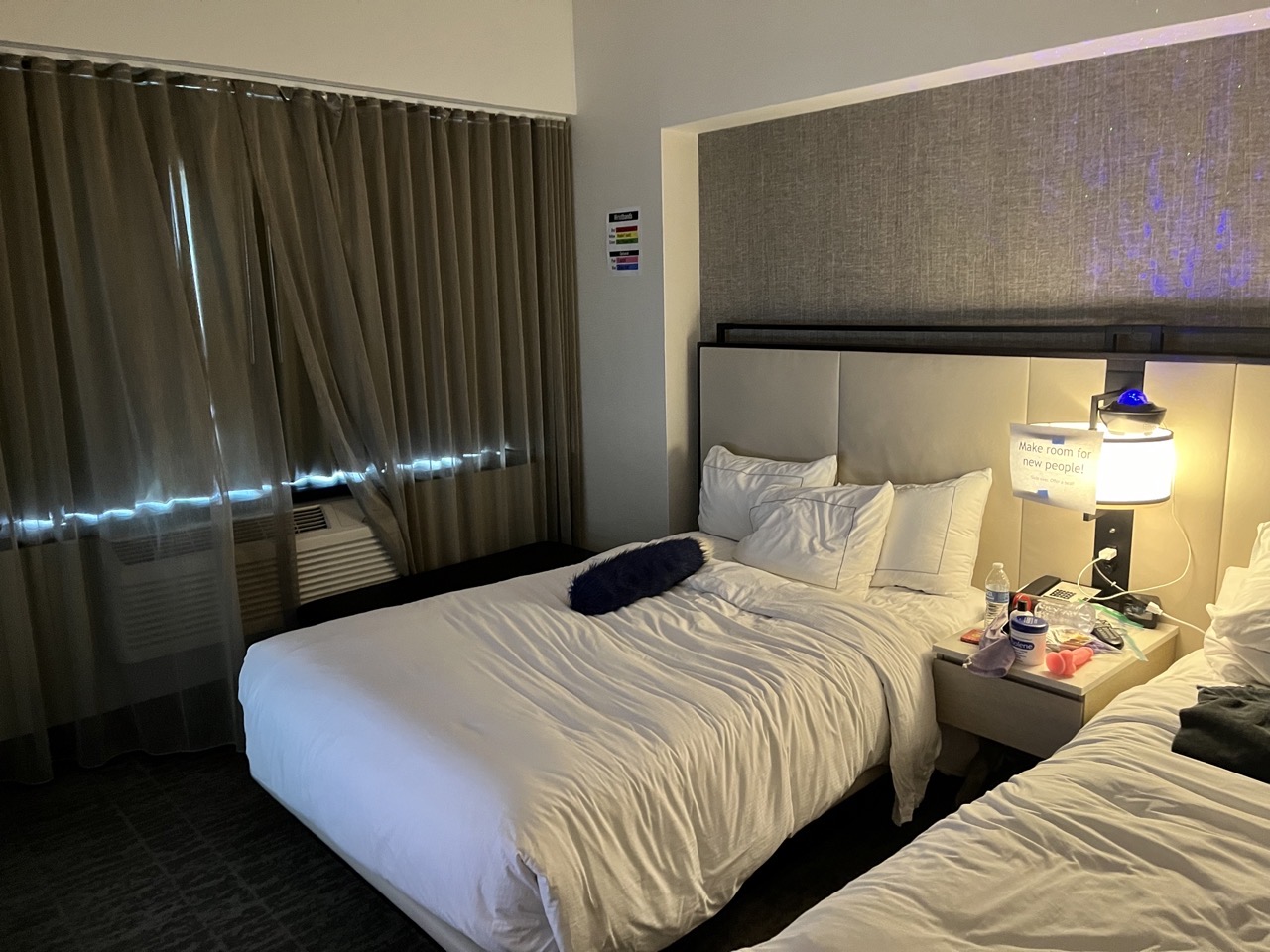 Here's a picture of the right bed. You can see the DJ setup on the right.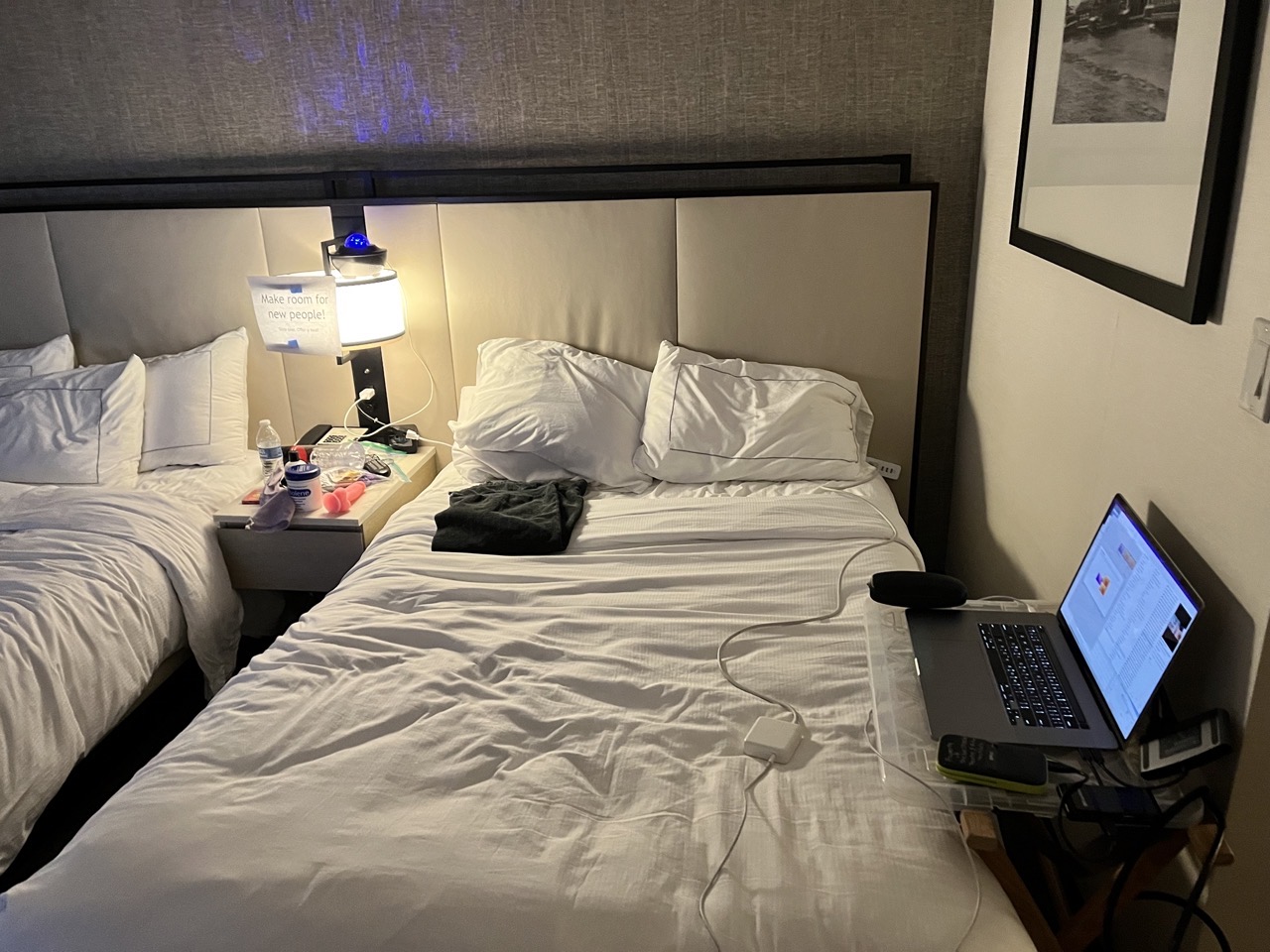 This picture is from after the party before we cleaned up. As you can see, the bed is a bit messy from so many people sitting on it.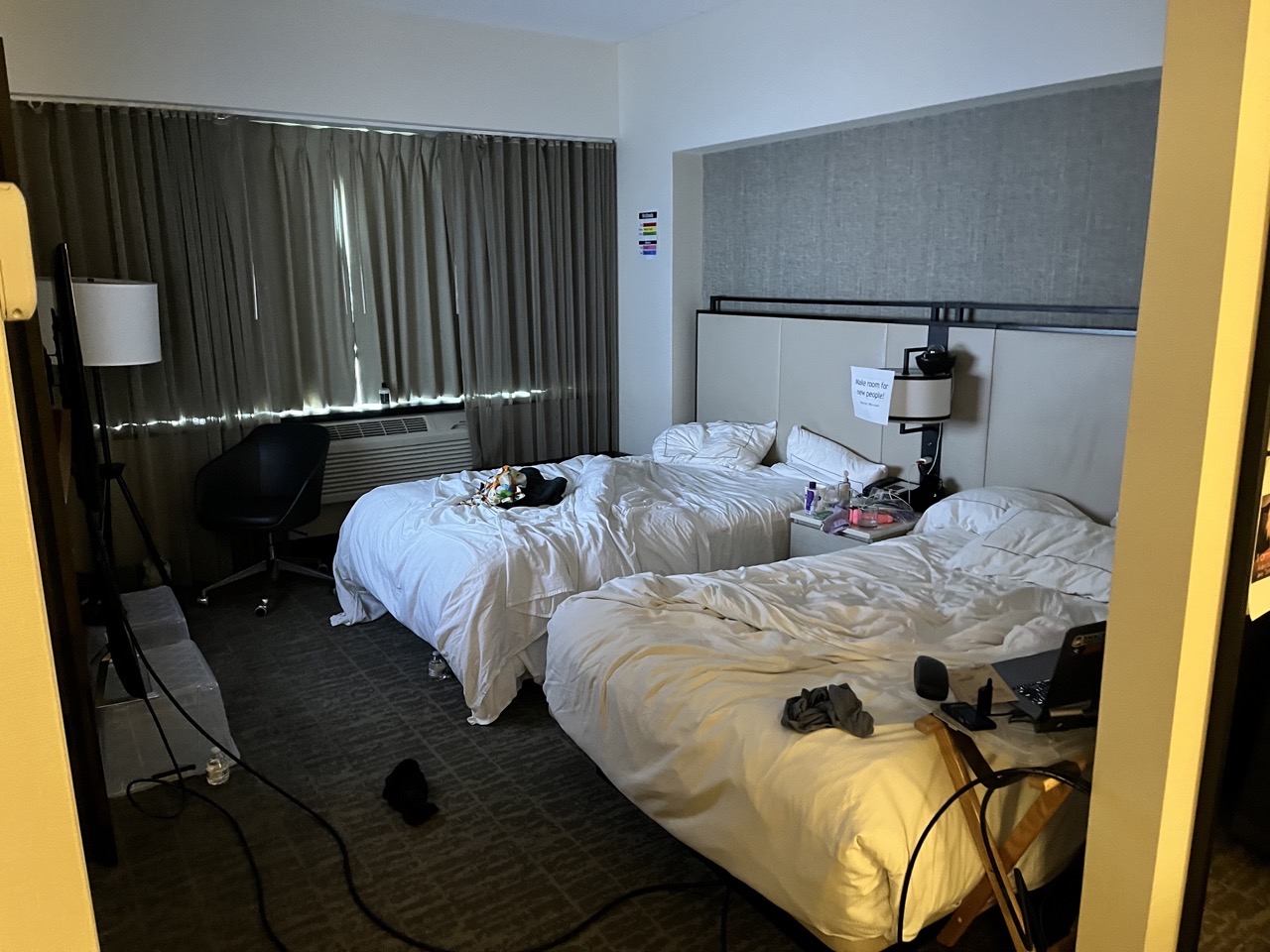 ---
The Goon Den ("at night")
During the party the lights are off and the "galaxy light" provides atmosphere.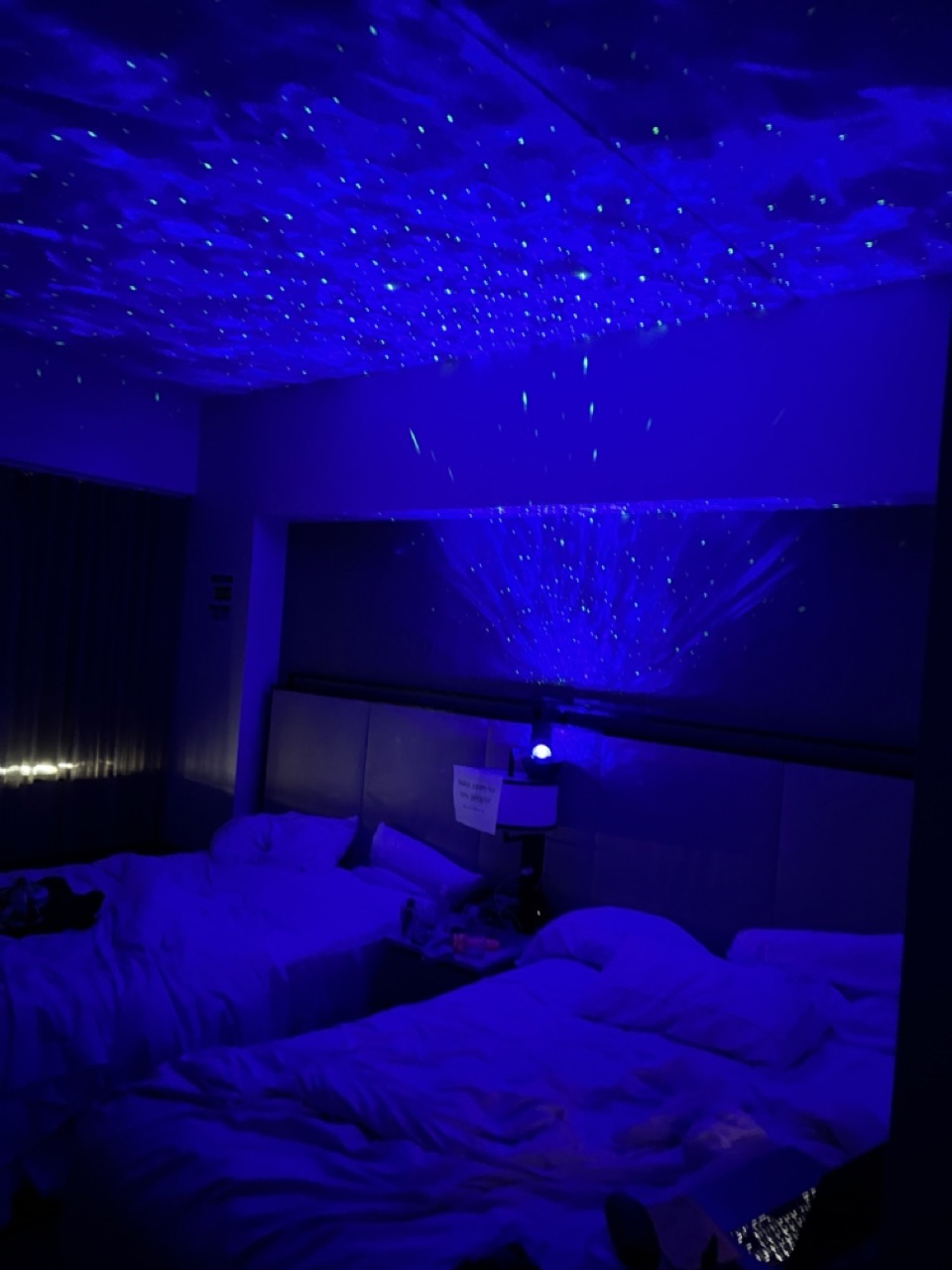 ---
Wall of Porn
I try to create a "wall of porn" effect: Three video screens, posters with encouraging slogans, and signs all help build the mood.
This it the view from the bed: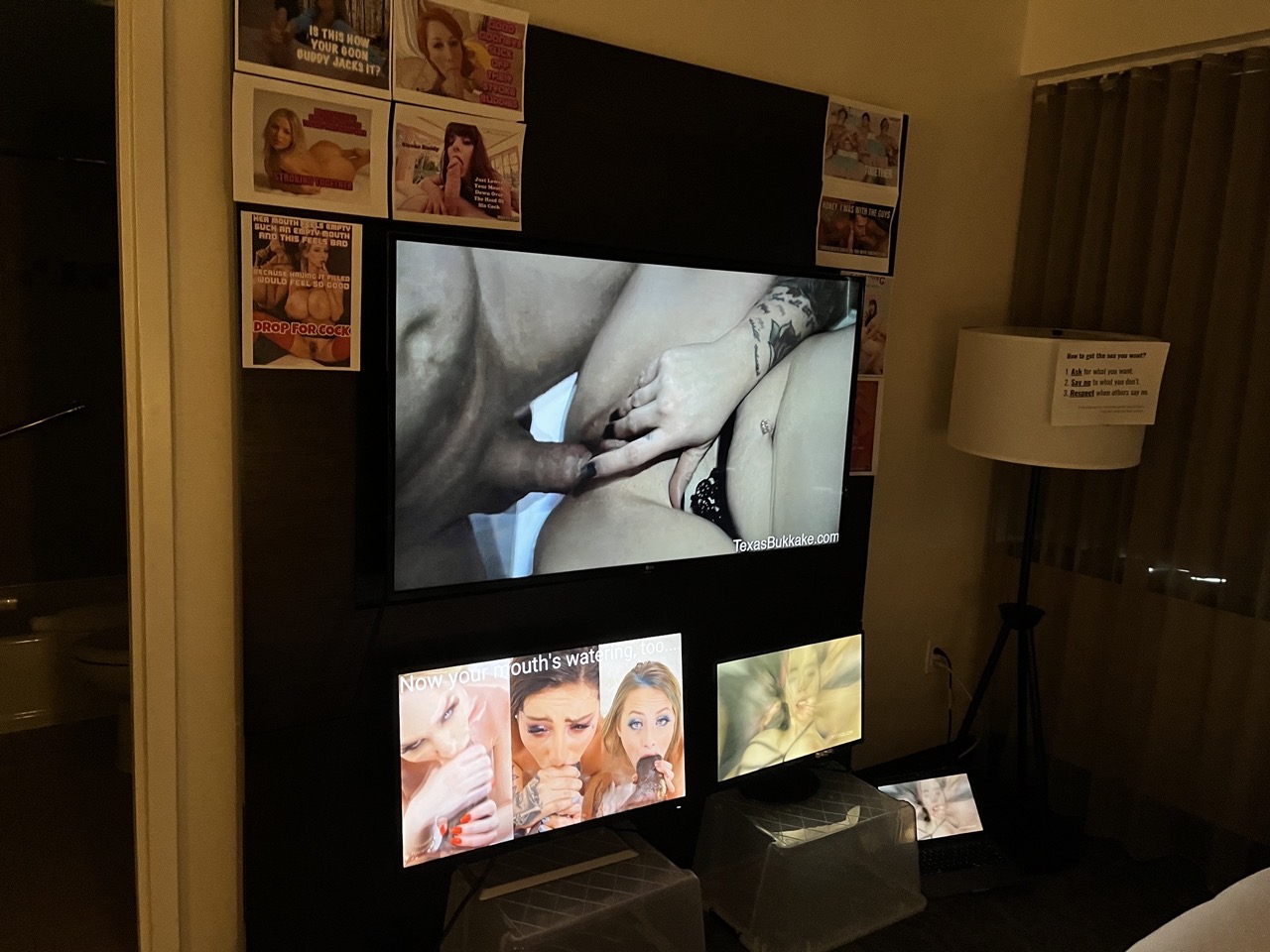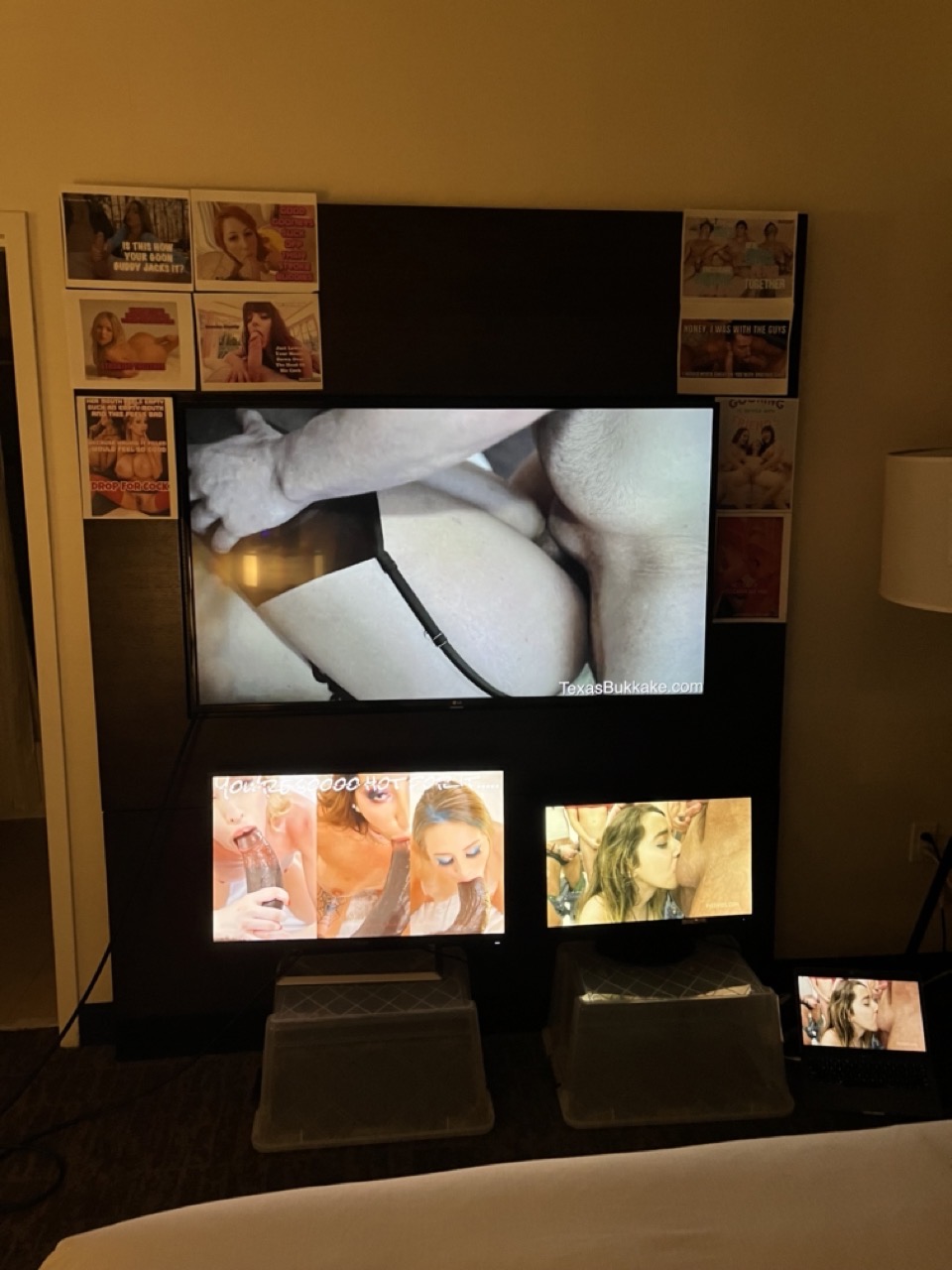 ---
Timeline
2:30pm: Setup begins. 2 people arrived early to help out. They had never been to any kind of sexy party before and arriving early helped make them more comfortable. I had plenty to delegate to them, mostly setting out the food and drinks, putting signs up on the way. Easy stuff but super important! Thanks, folks!
4pm: Party officially starts
5pm to 8pm: about 11 attendees
8pm-10:30pm: about 15-16 attendees
11pm: About 7 people
Midnight: last person left
---
Natalie's Birthday Bukakke
Natalie is a (now) 35 year old trans girl with lovely perky breasts and a sexy girlcock. While attending the previous party Natalie mentioned that her birthday was coming up. I asked if there was anything special she wanted, and she immediately asked if a bukakke would be appropriate. How can I turn down such an awesome request?
A few days later her friend Kaela Moon asked to attend and "help". You might know Kaela as a trans porn starlette from OnlyFans and elsewhere.
Leading up to the party both Natalie and Kaela were chatting in on the Discord server, answering questions, and getting people excited for the big day.
In bukakke porn the girl is usually in the middle of many men who cum on her face one after the other like a firing squad. It's all over in an hour or so. However this party lasts seven hours and the attendees aren't professional porn stars that can cum on demand.
Instead, we kept it simple. It was like our usual party except when someone was close to cuming, they'd announce it and either walk over to Natalie (on the right bed) or she would jump up and come to the person.
The first few loads arrived around 6pm. After that it seemed like a new load splattered her every 30-45 minutes. Soon the cum was running down her face and body. It was a sight to behold!
We kept count, announcing "3 loads!", "4 loads!" and so on. Everyone applauded with each cum shot.
Natalie posted on Discord: "I took 21 loads total— 19 on my face, 1 on my tits and 1 on my feet. Sucked off at least 8 different guys, frotted and grind against a couple, helped stroke even more. One of my favorite memories was during [the host's] first cum shot. I was sucking him and someone else off, while I was lying prostrate on my belly while someone else played with my girlcock."
I usually don't cum until the end of the party but this time my goal was to cum early and recharge for a second splatter before the party was over.
I was cum shot number 6 (I think) and 17.
When I was going for my second cum, her face was a thick mess of cums. The earlier loads had dried forming a thick crust. As I was stroking myself, my knuckle brushed up against her face and I felt the "crunch" of dried cum. It was so totally depraved. It pushed me over the edge and soon I was shooting my second load.
The "older cums being dried and crusty" trope is something I've seen in janky internet porn stories forever. I thought it was just something authors made up. It was real and super sexy!
The number of loads accelerated as time went on. Early in the party Natalie was splattered maybe once or twice an hour. Towards the end it seemed like she was receiving a new load of cum every few minutes. The last 5-6 loads were a rally. It was like a big, gooey, cummy, grand finale!
After the party Natalie wrote online: "Nnghhhh fuckkkkk it was SO fucking hot feeling load after load dry on my face and going back to edging or frotting or sucking someone else. Just fucking loved being the center of attention for a bunch of dirty fucking gooners."
When asked, "How did it feel to be the center of a bukakke? slutty? humiliated? empowered?" Natalie replied: "Oommgg it felt amazing!!! Honestly for most of my life couldn't bring myself to accept my sexuality and the things I wanted and it's SO empowering to take control of my sexuality at a party like this and be the center of attention!! Made me feel like a goddess."
Happy birthday, Natalie!
---
Hot memories
Natalie: "Had SUCH a good time with all you sweet dirty gooner boys!!! I'll have to start having a birthday every month 😜"
Kaela Luna: "I liked everyone touching me 😊"
A third trans girl attended and seemed to have a great time playing and being played with.
A male/female couple attended. They were both very attractive. She was very shy was a bit overwhelmed by the noise and crowd. Their plan was to stay a short while then have their own fun. They visited twice, for about 30 minutes each time.
Anonymous: "I had a great time as well. Thanks for hosting and thanks to everyone who showed up. Was both hot and chill at the same time. Needed something like that of late."
Anonymous: "Wow, thanks for a good first party (and convincing me to join Discord)! Special thanks to the two guys I stroked and sucked while sitting between on the couch. I live in Jersey City and would happily have anyone from last night's party over to bate! Cheers!"
Anonymous: "I had an awesome time last night. Sorry I didn't get a chance to give Natalie a load, but I had things hit me a lot faster than expected. I've been in an epic dry spell and last night was literally the first time in literally about 10 years I've done anything with anyone so… body went "Wait, what is all this?" and a few days' buildup went out the window REAL quick. Next time I gotta be a little more vocal about things, I was just kinda riding the wave of it all for my first time, but no regrets at all. I really needed something like last night and it was a lot of fun!"
I'm proud that we're successfully creating a safe space for people to explore and try new things.
---
Feedback Survey Results!
Yes, I really do a "post-party satisfaction survey" after the party. I use people's comments to improve future parties.
11 people responded to the survey. The average was 4.7 out of 5 stars. All the scores were either a 4 or 5.
What did you LIKE about the party?
"Pretty much everything! The people were all very friendly AND receptive. The setup was great for the space available and it seemed as though everyone was very happy to be there. It was also my first interaction in real life with trans women and it was wonderful. The host was really good, made me feel very welcomed."
"I appreciated the chill space. The size of the party felt like a good number. It was really cool to have the two trans babes there. This is not a particular interest of mine but it felt like something extra special!"
"It was both hot and chill at the same time. Everything was nicely ordered and the porn was quite hot yet the people themselves were rather chill about it all. I also finally got to have some fun like this with other people for the first time in LITERALLY about 10 years, so breaking that drought was something I very much needed in my life."
"The little time I spent at the party, everybody respected the band policy and the host is incredible at making the event very welcoming, this is my first time going to something like this, and any awkwardness I had going in has very quickly dissipated."
"I felt very welcomed upon entering, everyone respected everyone and it was a great time"
"It was so well organized and chill at the same time. everything was clear, from instructions to boundaries, and [the host] was amazing at making everyone feel comfortable and safe."
"The people at the party were all so nice and relaxed, we all knew what we were there for, and what we're all into, and that was such an incredibly comfortable feeling. also, consent was always asked and boundaries respected, everyone just ran at their own speed and that was a-ok."
"it was hot as all fuck. porn and stroking everywhere, my lords. goon x 1000, what an amazing ride."
What did you NOT LIKE about the party?
"I don't love goon/hypno porn but there was a space for other kinds so that was fine. The room layout made joining in on the hypno space challenging, but I think it was extra popular because if the women."
"I don't think there's any complaints that you could fix, it's mostly things on my end. Being there for my first time, I just kind of rode the vibe of the room for most of the time. I didn't really interact much with the others there except for one time I was mutually masturbating with the blond trans girl whose name I can never remember and that ended up doing what I was afraid of: finishing me off VERY quickly (it's literally been years since I've had anyone else touch my cock and I lasted probably less than a minute, and unfortunately didn't get a chance to give Natalie my cum because of it). That was the only time anyone else touched my cock and the only time I touched another cock, even though I had a full set of wristbands on. So it goes, I just need to be a bit more vocal and forward about things."
2 people comments that a larger room would have been nicer.
Safety and privacy
(8 responses) I felt safe/comfortable the entire time
(5 responses) The host did things that made me feel safe/comfortable
(4 responses) I was nervous at first, but I felt safe/comfortable soon after I arrived
How was the porn?
(3 responses) I felt over-stimulated (in a good way)
(3 responses) Not enough trans/shemale/ts
(2 responses) Too much hypno
How many times did you cum?
(3 responses) Not enough!
(2 responses) Just right!
(1 responses) "More than I expected!"
(1 responses) "3 times"
(1 responses) "was saving it all for the birthday girl, or I would have popped multiple for sure"
Did you interact with other attendees? (check ALL that apply)
(7 responses) Wish I had done more!
(7 responses) Talked
(6 responses) Hand stuff
(3 responses) Oral
(2 responses) Frot
(1 responses) Exchanged contact info
(1 responses) Ass play
Anything else you'd like to TELL THE HOST?
"Thank you so much, I just hope you can have meets that are closer to me"
"Honestly it would be hot to have more women interested in watching us stroke and suck each other but that's a different kind of party!"
"Just thank you. I really needed a night like that."
"Keep up the good work!"
"Thank you so much!!!!! :)"
"The trans woman were gorgeous! Thank you for setting up that birthday bukakke for Natalie and inviting Kaela for support"
"Thanks for organizing [the host], I love that this thing exists and that we get to meet like-minded people. you're giving people a place to express themselves and that's awesome"
---
Next party?
I'm going to hold off on the next party until after the new COVID-19 vaccine is out and distributed. I have no idea when that will be. I think this next wave is going to be bigger than we realize and safety is my top priority. I'd rather delay parties a few months than have a spreader event.
There might be a further delay because I'm researching new hotels. The current location is nice but a change would open some new possibilities.
The next Exxxotica Expo in Edison, NJ is Nov 3-5, 2023 weekend. I frequently have a party the same weekend but haven't decided yet. I'll post something on the blog and on The RPM Discord as soon as I know. It might be a morning or day-time event.
---
Thanks
This party wouldn't haven't happened without the help of others!
Thanks to the people that arrived early and helped set up!
Thanks to Natalie and Kaela for making this party extra special!
Thanks to everyone that completed the survey. Whether you attended or not, your answers really help make future parties even better!
Thanks to the first timers that got the courage to attend.
Thanks to everyone that played, and to those who were shy this time.
Thanks to the repeat attendees. We must be doing something right if people keep coming back!
And lastly, thanks to everyone that attended! These parties are all about you!
Hope to see you at a future party!
---